The Top 10 Best Simon Pegg Movie Moments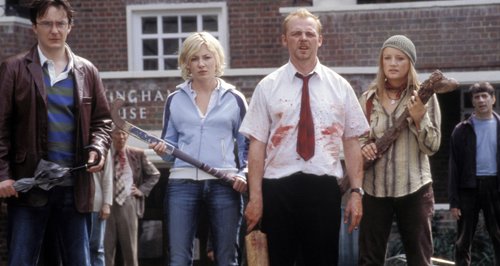 Brit funny-man Simon Pegg will be back on our cinema screens in December in 'Star Wars VII: The Force Awakens'. But before 'Star Wars' fever kicks off in a big way, here's our rundown of his movie highlights from the 'Cornetto Trilogy' to 'Mission Impossible'…
This month Heart has been feeling all romantic thanks to the BFI Love Season with Plusnet. Now, he may not be the conventional leading man, but every girl knows a man who can make her laugh is a keeper! Here are Simon Pegg's best movie moments to have you laughing all over again…
1. Jumping the fence in 'Shaun of the Dead'
This is just one classic moment from the brilliantly British horror-comedy starring Simon Pegg, Nick Frost and Bill Nighy. We're also big fans of the now infamous 'Bohemian Rhapsody' fight sequence in the pub, where every hit, kick and punch is done in time to the jukebox. Brilliant!
2. Everything about the Pegg-Cruise duo in 'Mission Impossible'
Simon Pegg and Tom Cruise admit they pranked each other during the filming of 'Mission: Impossible -Rogue Nation', especially when filming some of the car chase sequences in Morocco. We love the fact that Simon's character is geeky, prone to getting himself in sticky situations, but is a bit of a hero in the end.
3. Superhero Simon in 'Absolutely Anything'
With the voices of the whole 'Monty Python' gang and the late, great Robin Williams, this superpower comedy is as silly as it is hilarious. Watch the moment Simon's character Neil Clarke gets his own back on his boss (played by Eddie Izzard) in the video below…
4. Playing super cop in 'Hot Fuzz'
The second movie in the 'Cornetto Trilogy' sees Simon play a hardline cop who gets sent to a tiny countryside village because he's catching too many criminals in London! Everything about this movie makes us laugh, especially when he tries to tackle the village's blatant disregard for rules, regulations and, errr, underage drinking…
5. His sweary alter-ego in 'The World's End'
We admit it, this isn't going to win any awards for the best family movie (Hint: it's got more swearing than a Gordon Ramsay TV show), but there's something hilarious about Simon's character trying to relive his youthful glory days. Did we mention it's the final film in the 'Cornetto Trilogy' too?
6. Simon the scaredy cat in 'A Fantastic Fear of Everything'
Turning his hand to horror-comedy again, Simon plays a nervous, anxiety-fuelled wreck in 'A Fantastic Fear of Everything' about a children's author-turned-crime writer. It's an odd one for sure, but there are still some cracking moments. Check out the trailer below…
7. Being spanked with a spatula in 'Run Fatboy Run'
Dennis Doyle hasn't had much luck in life, but he's soon whipped into shape by his landlord Ghosh Dastidar and his best mate Gordon (played by Dylan Moran) in order to run a London marathon and improve himself. This heartwarming film was directed by 'Friends' star David Schwimmer and also stars Thandie Newton and 'The Simpsons' star Hank Azaria (aka scientist David). We'd recommend it if you ever need motivation for your morning jog!
8. Playing drunk Scotty in 'Star Trek'
He may have started off in Brit comedy TV series like 'Spaced' and 'Hippies', but he soon morphed into a blockbuster star. Simon has appeared as science expert Scotty (complete with a Scottish accent) in two big-budget remakes of 'Star Trek', and the third is expected to hit cinemas in 2016. There's no rest for the talented!
9. Chasing aliens in 'Paul'
Simon Pegg and Nick Frost reunited for this quirky tale of two Roswell fanatics on a mission to find aliens. Only they find one…and his name is Paul. The whole premise is rude, silly and hilarious – especially when Jason Bateman and Kristen Wiig get involved, but we'd happily watch it again when we need cheering up.

10. Taking a flight in 'Hector and the Search for Happiness'
Simon Pegg teams with Rosamund Pike in this charming tale of a psychiatrist who feels like he's missing some adventure in his life. It's only when he travels half way around the world that he realizes what he really needs in his life is what he already had. Aaahhhhhh! Give it a watch if you want to feel inspired…
Heart and Plusnet are showing the love by giving you the chance to win a tech bundle by loving someone back, click here to enter.
Simon Pegg will be in London on the 19th December to introduce a special screening of the classic romantic movie 'When Harry Met Sally' as part of the BFI's Season of Love. He'll also be answering your burning questions, so all you mega-fans should put the date in your diaries NOW!
Want to win some tickets to the event? Try your luck in our competition here.