Everything you need to know about Caroline Flack, from her net worth to her dating history
19 April 2018, 16:00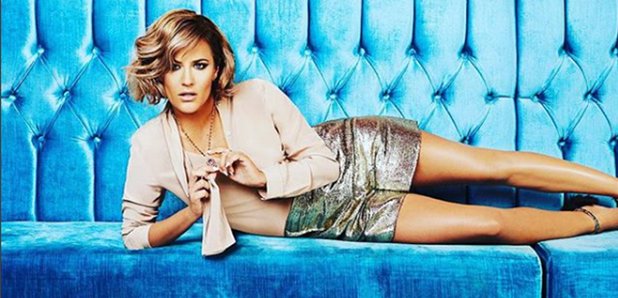 Everything you've ever wondered about the TV presenter, including where she lives and how she became famous, is in this very article.
Caroline Flack has presented many of the most popular reality shows on TV - from X factor to Love Island.
She's also proved she's queen of the ballroom after she was crowned winner of Strictly Come Dancing in 2014.
Here's everything you've ever wondered about the popular presenter.
How old is Caroline Flack?
Caroline Flack was born on 9th November 1979, and is 38 years old.
She was born in Enfield in London, but grew up and attended schools in Norfolk.
The presenter has a twin sister called Jody, and an older brother and sister. She previously told Red magazine that she had a "very working class" upbringing.
Where does Caroline Flack live?
Caroline Flack moved into her swanky London pad last year, and often posts shots enjoying her new abode on her Instagram page.
How did Caroline Flack become famous?
Caroline had her first break in Keith Lemon's sitcom Bo' Selecta!, where she played the character Bubbles. Following that, she fronted the International Pepsi Chart Show, and began her career as a presenter.
Does Caroline Flack have any siblings?
Caroline is a twin with Jody whom she has referred to in the past as her 'best friend'. The star has another sister, Elizabeth, and a brother, Paul.
All three of her siblings choose to remain out of the limelight, and not much is known about them.
What is Caroline Flack's net worth?
According to website Celebrity Net Worth, Caroline is worth around £5.6million.
Is Caroline Flack in a relationship?
Caroline is currently dating Apprentice star Andrew Brady, and the couple have been together only two months. It seems that Caroline is smitten though, having already had his initials tattooed on her wrist.
Their relationship began after his stint in the Big Brother house, and the two are already reportedly living together despite briefly splitting up a few weeks ago amidst cheating allegations.
Who are Caroline Flack's ex-partners?
Caroline Flack has been linked to many famous faces, notably the likes of Prince Harry, Harry Styles, Niall Horan, Love Island Contestant 'Muggy' Mike, and Sam Smith's manager Jack Street.
Caroline appeared to recently confirm rumours surrounding her past relationship with Prince Harry in her autobiography Storm In A C Cup - where she refers to herself as the Prince's 'bit of rough'.
She told Red that she is in no rush to settle down, saying: "We've got the rest of our lives to be old! If I wanted to have a child, I could have one or I could adopt."
What does Caroline Flack currently do?
After hosting the last series of Love Island, Caroline Flack is confirmed to host the new series, which will start this summer.
WATCH! Love Island narrator Iain Stirling is revealed: