Christmas Come Hurley! Elizabeth Hurley Releases Christmas Card For 2015
Elizabeth Hurley has released her latest Christmas card for 2015 – so we take a look back at some of her best yuletide offerings over the years...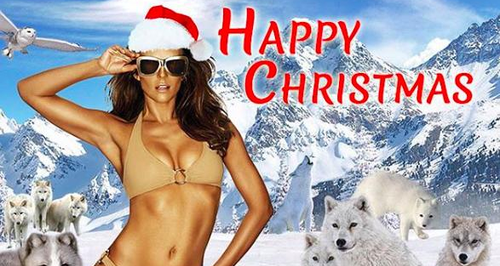 Elizabeth Hurley's Christmas cards are always pretty EPIC and this year's festive offering is no exception. Liz posted her latest Christmas card (AKA a badly photoshopped picture of herself wearing nothing but a bikini, sunglasses and a Santa hat, standing in front of animals of the arctic) to her Instagram. The 50-year-old actress still looks as amazing as ever, so we can't really blame Liz (in true Hurley style) for wanting to show off her INCREDIBLE figure!
As it's nearly Christmas and we're feeling somewhat nostalgic, let's take a look back at some of the best Elizabeth Hurley yuletide offerings over the years...
2015
2014
2013
2012

Liz, we salute you!
They did not see that coming!
The couple have said they'll donate revenue from this video to the "LGBT+ Switchboard" and charity "It Gets Better".
Recently Played Tracks
To listen live, choose your preferred station:
Stay tuned...
Now playing: The best feel good music