Liam And Cheryl Reveal Their Top Baby Names And They're Not What You'd Think
Cheryl addressed those pregnancy rumours without even saying a word. Here are the names the parents-to-be, Cheryl and Liam Payne, are considering for their little girl or boy.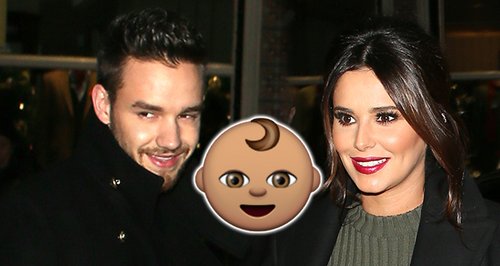 After months of speculation, has finally dropped the BIGGEST hint yet about her rumoured pregnancy when she stepped out with Liam Payne on sporting an undeniable baby bump.
The former Girls Aloud member is reported to be expecting her first child with the One Direction star, but hasn't yet addressed the news.
Although there is no indication of the sex of the baby - or even the due date for that matter - both parents to be have revealed their favourite baby names, even before they were together! And it looks like they both prefer gender neutral names.
Cheryl opts for a clingy dress to show off her new curves
Cheryl has previously revealed that her favourite name for a boy is Alfie.
In an interview given to GQ two years after her split from Ashley Cole, she admitted she was "obsessed" with babies.
"I love kids, I'm obsessed with babies," she gushed. "I know that's what I was put on the earth to do – to be a mother. Of course I've thought about baby names a million times. I like Alfie for a little boy."
In an interview Liam did with a radio station back in the day, he said that he likes the name Taylor for either a girl or a boy. He said: "Taylor's pretty neutral for a boy or a girl. That's what I'm going to call my first child if I had children."
And when pushed, he confessed that being in 1D was like "having four of them [children]!"
Maybe he's already wanting more children...
Will they stick to the names that they have both always wanted? Or will they opt for something completely new?
Cheryl has previously chosen to cover up her figure amid pregnancy speculation
The singer, who has become increasingly protective over her privacy in recent months, has chosen to cover up her figure with clever style choices until now, and this is the first time she's chosen to display her new found curves.
The couple are still yet to comment on their pregnancy, but these pictures are the most convincing so far.
It's widely thought that Kimberly Walsh strongly advised Cheryl to put an end to speculation surrounding her rumoured pregnancy in a bid to stop the backlash.
Cheryl's closest pal was reportedly concerned about how her fans might begin to react if she doesn't speak up.
A source told Closer: "Kimberley and Cheryl have been spending a lot of time together recently, and she hates seeing her pal under attack.
Cheryl and Liam have been dating since January following her split from ex-husband Jean Bernard Versini
"She's worried Cheryl may face an angry reaction from fans who feel she's keeping something from them.
"She's told Cheryl she'll have an easier life if she just addresses the rumours herself, from the hea rt. But Cheryl doesn't want to feel forced to do anything."
Despite still not confirming or denying the pregnancy rumours, bookies are already hearing the patter of 4 tiny feet, with the odds open that Liam Payne's girlfriend Cheryl could have two buns in the oven.
We'll miss you, James Martin!
Let's say the scene has had "mixed reviews".
Recently Played Tracks
To listen live, choose your preferred station: