Michael Bublé's Sister Has Made His Son Noah's Christmas With This Gift!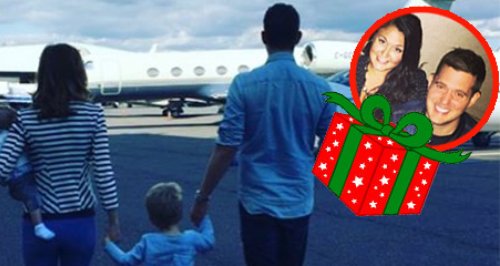 His Aunt Brandee pulled a fantastic surprise out of the bag for this Christmas and went to great lengths to do it!
Every year there's one toy that all kids put right at the top of their Christmas lists...and then it sells out on every corner of the planet.
This year it's Hatchimals, little robot animals that hatch from an egg. But the 'cool' thing is, you don't know what Hatchimal you have until it decides to hatch!
And like other children across the world, three year old Noah Bublé wanted a Hatchimal this Christmas. Due to high demand, they're already hard to come by.
But dad Michael's sister, Brandee Bublé came to the rescue this year and has managed to bag one. She shared the tale of how she managed to get one in an Instagram post...
She also cheekily added that his dad Michael - or "Mike" - might be more excited than Noah is. We doubt it...unless Michael doesn't realise that Hatchimals are programmed with a range of songs on them!
Hopefully this will make little Noah's day this Christmas after the hard few weeks he's had and the difficult times that lie ahead for the family.
He was diagnosed with cancer at the start of November and both dad Michael and his mother Luisana have announced they are in order to "devote all our time and attention to helping Noah get well. At this difficult time, we ask only for your prayers and respect for our privacy."
Wishing little Noah all the best this Christmas!