Victoria Beckham: Another Phase In Her Amazing Life.
In the year of Victoria and David's 15th wedding anniversary, we take a look at the woman, her evolution: from awkward popstar to relaxed business woman and how her life experiences have shaped who she is today.
if you pick up a copy of the August issue of Vogue you may gasp at the pictures of Victoria Beckham.
She's graced the cover of this fashion bible many times, but in this month's copy you'd have to look twice before you realised it was VB. The mum of four is truly unrecognisable in her country chic attire.
See stunning pics of her whimsical Vogue shoot here
This rural idyliic scene has Victoria looking relaxed and with a quiet confidence. It's a powerful image in many ways because even resplendent in wellies and a straw hat there's not a hint of self consciousness about her and it's a far cry from the Victoria we know: those awkward pouty poses, five inches heels and eye-wateringly tight dresses.
These refreshing images of Beckham suggest that the career woman has finally come into her own and at the age of 40 is confident and at ease enough to play around a little and have some fun with her image.
The former Spice Girl has adopted many looks through the years. From the super chic, super sombre Gucci-clad era of Posh and the post Spice transformation (which some would say saw her looking emaciated), to cosmetic surgery and peroxide blonde hair. Later she adopted the American-friendly image of jeans and hair extensions before moving to Los Angeles with her family in 2007.
It certainly wasn't easy for Victoria Beckham to make the transformation from popstar and footballer's wife to fashion designer and it took her a while to be taken seriously.
"For a long time there, I was a bit of a laughing stock," Posh said to The Business of Fashion magazine.
"While everybody was laughing what was I doing? I was laying the foundation to what I have in place now".
There are very few stars who have managed to turn their career around like VB has. And now there's something of the chameleon about her image too.
The first signs that Victoria was feeling in control of her image was when she started wearing deconstructed dresses from her own VB label (below) - a bold move for someone who'd felt the need for skin-tight outfits for well over a decade. Later came the billowing skirts, flat brogues and even the occasional pair of trainers worn with jeans and t-shirts (gasp!). But it's only now that the designer has finally comfortably reclaimed her image.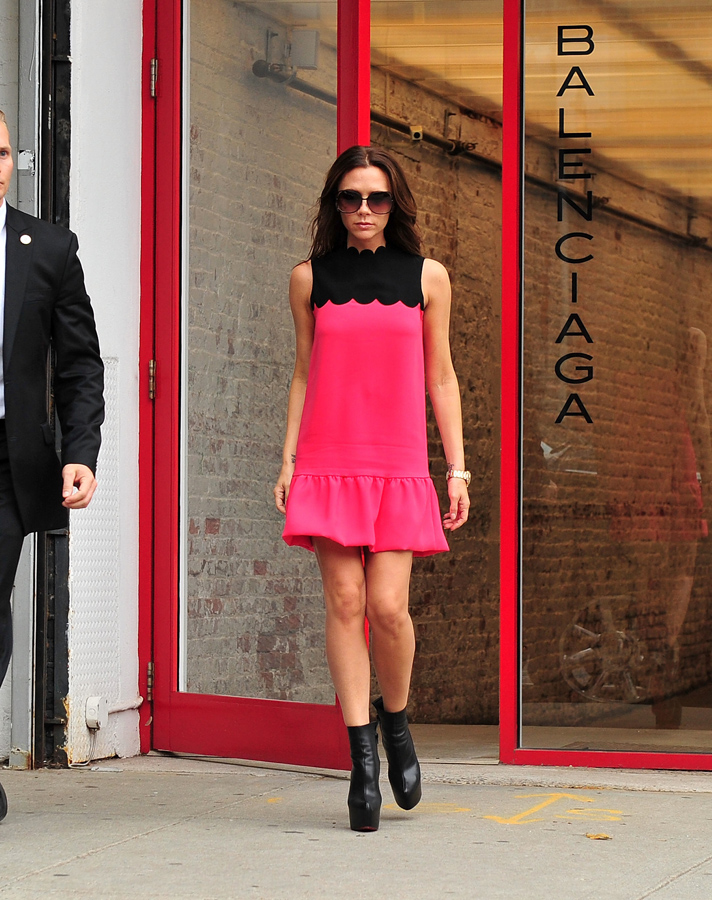 The mother of four has had to overcome endless insecurities and criticism of her life. From the lack of confidence in her singing and dancing abilities during her time with the Spice Girls, accusations of being moody because she doesn't like her smile in pictures (though those in the know swear that VB has a witty and cheeky sense of humour) to rumours of husband David's infidelities. Victoria has always dealt with these issues with serenity and maturity never giving her power away. Most importantly, she has never let her detractors get the best of her. Victoria Beckham is a woman who has her eyes on the prize and knows herself well.
In her bucolic photo shoot for Vogue, Beckham not only makes the countryside look trés chic, she also makes a clear statement to the world:'This is me and I feel great, whether I'm in six inch Louboutins or Wellington boots!".
And it's true, at 40, Victoria Beckham has never been more fabulous.