'The Worst Witch' Is Getting A Remake And They've Found A New Mildred Hubble!
As the Cackle's Academy girls makes a magical comeback – we take a look at the child stars back then and what they look like now…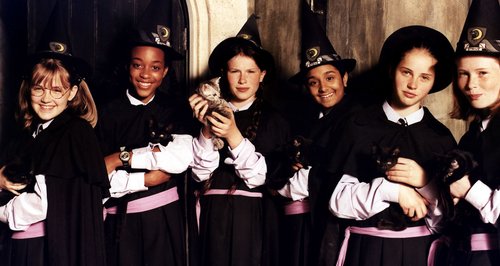 A whole generation of youngsters (and their mums and dads) will never forget the classic after school TV show 'The Worst Witch' often watched while eating a cheese string or two.
Anyway, move over Harry Potter, a brand new series of 'The Worst Witch' has been conjured up and we can't quite contain our excitement.
Yep, everybody's favourite hapless witch Mildred Hubble is making a comeback in a TV revival of the Nineties classic which originally ran from 1998 until 2001.
Talking to The Telegraph back in 2014, Jill Murphy, who wrote the original children's book said: "We're just in the process of working on it with the BBC. They have much better special effects for the animals, so it should be wonderful. I'm really, really looking forward to it."
Game of Thrones star Bella Ramsey will be playing our beloved Mildred and we can't wait!
Until we know the release date of the new series, we take a look back at what happened to the witches after they graduated Cackle's Academy?
Mildred Hubble (Georgina Sherrington) Back Then
Georgina Sherrington played clumsy witch-in-training Mildred, who, let's face it, was the one we all related to.
Mildred Hubble (Georgina Sherrington) Now

After 'The Worst Witch', Mildred also appeared in Weirdsister College, but after that, Georgina left the world of children's TV.
After spending several years in Los Angeles, the child star – now 30 – is back in London, and has worked as a writer, producer and actress on several projects.
Ethel Hallow (Felicity Jones) Back Then
Felicity played the less-friendly antagonist Ethel on the show for one series before she was magically replaced.
Ethel Hallow (Felicity Jones) Now
However, the actress, now 32, is the most successful star to emerge from Cackle's.
Miss Jones was nominated for a Best Actress Oscar for her role as Stephen Hawking's wife in 'The Theory Of Everything' earlier this year, and is set to star in the upcoming 'Star Wars' spin-off 'Rogue One'.
Maud Moonshine (Emma Brown) Back Then



Maud was Mildred's sensible best friend who bore more than a passing resemblance to Moaning Myrtle from 'Harry Potter'.
Maud Moonshine (Emma Brown) Now

According to IMDB, Emma stopped acting after 'The Worst Witch', and is now a married mum-of-two who goes under the surname Ronicle.
Drusilla Paddock (Holly Rivers) Back Then
Remember Drusilla? She was Ethel Hallow's only friend at Cackle's Academ y.
Drusilla Paddock (Holly Rivers) Now
And actress, Holly, has had the biggest transformation out of all of the witches. Now a fashion blogger, Holly rocks neon make-up and matching clothes and numerous piercings.
Enid Nightshade (Jessica Fox) Back Then
Enid was a wild practical joker in Mildred's gang.
Enid Nightshade (Jessica Fox) Now
Jessica Fox went on the play Nancy Osborne on the teen soap, Hollyoaks, and has become one of the most popular stars on the show since joining in 2005.
Memory need refreshing? Watch the clip from the opening credits of the original show below…
Robert Pattinson Is 'Kind Of' Engaged And We're Not Sure What That Means
And it could be YOU!