Cheryl And Liam Have Secret Plans For An Intimate Wedding
The new parents have revealed their plans for a small, intimate wedding after the birth of their son.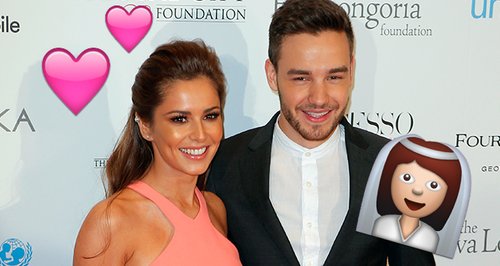 After their recent baby joy there could be more celebrations on the way for Cheryl and Liam Payne.
The 33-year-old gave birth to their son last week in London and now according to OK! Magazine, they're now making plans to wed.
But as this is Cheryl's third wedding, she wants a low key affair when it comes to tying the knot with 23-year-old Liam.
A source told the celebrity gossip mag "Because this will be her third marriage, Cheryl doesn't want a circus."
"She'd rather have just close friends and family. She'd also love the baby to be sitting on their laps in the wedding photos."
But others have said that as it is Liam's set of nuptials he may "want to shout about their wedding from the rooftop".
Cheryl And Liam Payne Welcome A Son Into The World!
Everyone has been on the edge of their seats waiting for the news of Cheryl and Liam's little one and he's finally arrived!
Cheryl revealed to her fans on Instagram that on Wednesday 22nd March she and her parter Liam Payne welcomed a son into the world.
She uploaded a sentimental photo of Liam cradling their new arrival with a caption that reads as follows...
'On Wednesday 22nd March Liam and I became parents to an incredibly beautiful, healthy baby boy, weighing 7lb 9 and looking like a dream. Although he still doesn't have a name he is already stealing hearts. We are all madly in love and overwhelmingly happy with our little arrival. Happy Mother's Day to all the mothers around the world. A day that now has a different meaning to me forever'
The One Direction singer also took to his Instagram page to share a picture of himself cradling the newborn baby.
He wrote: "My close friends and family know there are very few times when I'm left speechless... wow!
"I'm incredibly happy to welcome our new baby boy into the world, it's a moment that I will never forget for the rest of my life and my favourite memory I have so far.
"I'm completely in awe of his incredible mother and how she has been the whole way through this, she's really made my dreams come true. We haven't named him yet but he's already capturing hearts including mine. I feel very blessed.
"Happy Mother's Day everyone!"
Cheryl gave birth to her new son at Chelsea and Westminster Hospital this week and a source revealed that she had Liam by her side the whole way.
The little one is yet to be named but it's so exciting to see the little one and know that he and mum are doing well!
A HUGE congratulations to Liam and Cheryl, they'll make fab parents. What a mother's day to remember!
He's not just a pretty face!
Ooh la la - Robbie's love letter to his French fans should be a winner