Christine Lampard pregnant: Loose Woman star's pregnancy details revealed including due date and baby's sex
31 May 2018, 09:55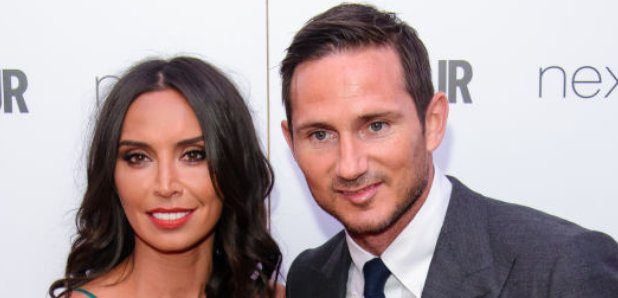 Franke Lampard and wife Christine have confirmed they're having their first baby together - here's what we know - and what she's been wearing.
Christine is one of the most loved TV presenters in the UK, so fans are understandably delighted she will soon become a mum.
The 39-year-old announced that she was expecting her first child with husband Frank, also 39, on Instagram in May. Here's all we know about their little bundle of joy so far...
How did Christine announce she was pregnant?
Frank posted a photo of him, Christine and his two daughters from a previous relationship to Instagram to reveal there was another member on the way.
Frank uploaded a cute family photo with the caption: "We have some exciting news we wanted to share with you. The Lampard family is growing! My gorgeous wife @christinelampard is pregnant and we all couldn't be happier!!!"
And straight after, Christine re-posted it with an additional message: "The Lampard family are expanding!! I feel SO excited, nervous and grateful! The list of emotions is endless."
What has Christine Lampard said about being pregnant?
Appearing on Lorraine on May 23, she said: "I feel really good. I'm trying to do all the right things, but obviously being completely new to this, as any first time mum will know, there's a whole list of things that I didn't know about. So I'm learning on the job.
"I wasn't terribly sick in those early stages, which was great. A bit sort of nauseous, but nothing too major. I feel good.
"We are excited. You get to the stage where you don't think about it, and you think maybe it's just not going to happen, but suddenly when it does and it's involved the entire family obviously.
"First grandchild for my parents. My sister, as an auntie, is very excited.
"[Frank] just cannot wait, very excited daddy-to-be. I think because the girls are so into it too, it's a lovely little kind of unit almost. We're all in this together now. We feel very grateful."
Had Christine Lampard been trying for a baby for a while?
Christine said that they hadn't ben actively trying for a baby, but had been hopeful they would be blessed with a baby.
She told You magazine: "I am always being asked when I am going to have a baby.
"Everyone seems to be fascinated by my body clock. As far as I am concerned, my attitude is that I will wait and see what happens. I'm not pushing myself, I'm not getting stressed or unhappy.
"'I'm a believer in what will be will be."
She later told Loose Women she took "five or six" pregnancy tests before believing that she was really pregnant.
When is Christine and Frank Lampard's baby due?
Christine told her Loose Women pals that she was about four months gone when she appeared on the show in May, meaning her baby would be due in October.
She said: "I found out quite a while ago, I'm actually 21 weeks... that classic kind of anxious kind of nervous superstitious way, it was like let's get the big scan done and then you can open up and start to tell people.
"I've just been really nervous because you're always thinking the worst."
The couple wed in 2015 after a six year relationship (Image: Getty)
Christine Lampard's pregnancy fashion
The presenter is renowned for always looking glossy and groomed - but now she's glowing, too!
She wore a gorgeous yellow dress from Marks and Spencer when she presented Lorraine on May 29th, which is £125.
The next day, on May 30th, she wore another M&S frock, their Floral Print Asymmetric Midi Dress which is priced £69.
It is available in all sizes from 6 to 22.
On both days she kept her footwear simple with a pair of brown strappy sandals.
These ones from Office, priced £69, are very similar.
Does Frank Lampard have kids?
It will be 39-year-old Frank's third child, and a baby sibling for his two daughters, Luna and Isla, from his previous marriage to Elen Rivas.
Christine has said that the girls are really excited about the new arrival - but they're hoping for a sister.
She said: "Oh my gosh they were just... excited doesn't do it justice at all.
"I happened to say to them that apparently at this stage the baby can hear voices so of course straight away they're like, 'I'm your favourite sister'. They're chatting to my belly the whole time.
"They phoned straight away – they're just so excited. They want a girl, that's their only stipulation."
She later told Lorraine: "They're completely beside themselves, more so than I thought they would be.
"It does have to be a girl thought, apparently, that's the only issue. I can't guarantee that! They're desperate for a little girl."
What has Frank Lampard said about Christine?
The England star met Christine shortly after he lost his mum Pat to pneumonia.
He said: "I had been on my own for a year, single for a year, and I'd had a very hard time with my mum, and I was in a difficult place
"And I don't need to go into that, but it was tough, and I was working and that was my get-out from a very hard year for myself.
"But meeting Christine was completely uplifting for me because, we say love at first sight, but we met, and very quickly we kind of moved in together and were inseparable."
He also said that he fancies the pants off his wife, and that's the secret to a good relationship.
"The secret to a good relationship is to keep fancying each other," he said.
"Christine and I make each other laugh and have fun, but I am sure we fancy each other more and more as time goes on."
The Lampard family is growing by one more with the imminent arrival of the couple's first baby (Image: Getty)
When did Christine Lampard and Frank Lampard get married?
The couple married in 2015 after being together for six years and engaged for four.
Christine wore a stunning £10,000 wedding dress.