Dawn French Stuns Viewers With "Ageless" Appearance On 'This Morning'
She wowed viewers with her youthful looks as she appeared on Holly and Phil's sofa to discuss her new TV show, 'Little Big Shots'.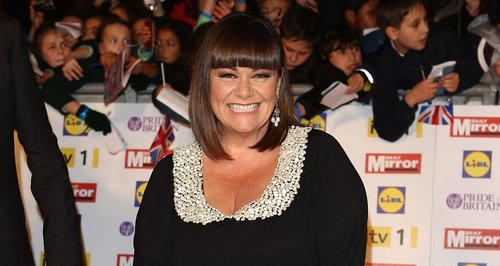 Viewers were thrilled to see a fresh-faced Dawn French laughing and joking during her latest appearance on This Morning .
The funny-woman joined Philip Schofield and Holly Willoughby on the sofa yesterday to talk about her new series Little Big Shots, a talent show for children, which aired last night (March 1) and featured the sensational dancing seven-year-old Balang .
Fan were stunned to see the 59-year-old looking so young, with one tweeting the comedian to say, "No way are you turning 60! You look stunning."
Dawn batted away Philip and Holly's compliments about her youthful appearance, but did reflect on the ageing process in a positive light.
"How did that happen?" she said as Phil and Holly laughed. "When I was a kid, I used to look at people who were 60 and just think, 'You should just really die because what is the point of you now? Now I'm that person!' It's a bit weird – 60 doesn't feel like anything. I feel like 40 or whatever."
The hilarious @Dawn_French stopped by to talk @LilBigShotsUK today, but we weren't expecting *THIS* revelation! pic.twitter.com/ik21hqYYBy

— This Morning (@thismorning) March 1, 2017
It's six years since Dawn shed six-and-a-half stone, though in 2014 she revealed that part of her weight loss was down to a hysterectomy she had after a cancer scare.
Now she's on top, with Little Big Shots delighting viewers who are delighted to see Dawn back on our screens and looking fab.
Cathy said Dawn looks "amazing"
@thismorning @Dawn_French @LilBigShotsUK 60 no way. You look amazing

— Cathy Meacham (@Jojamer) March 1, 2017
While Laura struggles to believe it
Like Dawn French is 60 this year. She doesn't look anywhere near 60

— Laura (@BiForBane) March 1, 2017
And Rachel took the words right out of our mouths
As if Dawn French is 60. #thismorning

— Rachel Hawkins (@ourrachblogs) March 1, 2017
They really are true besties!
Recently Played Tracks
To listen live, choose your preferred station:
Stay tuned...
Now playing: The best feel good music
Deposit £10 to get a £40 Welcome Bonus - That's £50 to play bingo, slots and more!*
Over 50 tracks to make you feel-good. New album out now...
Local
Make Heart the soundtrack to your day and you could be a winner with great prizes up for grabs throughout the day.