Express Yourself: Madonna's Best Putdowns
Did these stars Live To Tell after a tongue-lashing from Queen of Pop, Her Madge, Madonna?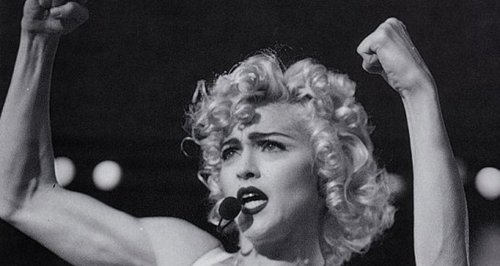 That distant sound you can hear... that's Hollywood quaking in its boots.
Madonna's early rise to fame is to be turned into a film by Universal, but the pop icon herself is distinctly unimpressed. The film will be called Blond Ambition and the script has been written by first-time script-writer Elyse Hollander. Madonna's backstory would definitely make for a fascinating rags-to-riches movie. In 1977 she famously arrived in a grimy and crime-ridden New York from Detroit, Michigan aged 19, with no contacts and with only $35 in her pocket. She is now the biggest-selling female solo artist of all time.
Blond Ambition certainly has all the hallmarks of a fantastic tale, but Madonna – not to be outdone – has spoken out against it. Taking to Instagram, she didn't refer directly to the planned biopic, but the message was clear:
"Nobody knows what I know and what I have seen," she said. "Only I can tell my story. Anyone else who tries is a charlatan and a fool looking for instant gratification without doing the work. This is a disease in our society."
Nobody knows what I know and what I have seen. Only I can tell my story. Anyone else who tries is a charlatan and a fool. Looking for instant gratification without doing the work. This is a disease in our society.

Tell it like it is, Madge!

It would be a very brave young actress who took on the role of Her Madgesty in the film. But perhaps any wannabes should firstly check out this handful of the Queen of Pop's best put downs.




When she threw shade on Kendall Jenner





The reality star and model's recent Pepsi ad controversy did nobody any favours. But Madonna was on hand to remind us of a much fizzier scandal that happened before Jenner was even born.

Back in 1989, Pepsi released a commercial starring Madonna to coincide with the launch of her Like A Prayer' single. Once the execs saw that the music clip featured burning crosses and Madge kissing a black saint, they pulled the ad. Madonna kept her fee though, and the album was a huge hit.

In the wake of Jenner's Pepsi drama, the pop icon slyly shared a late 90s photo of herself carrying a can of Coke.




When she nipped at Janet Jackson's heels

These two had an ongoing feud in the early 90s. Madge reignited it in 2012 when she was preparing to play the Super Bowl Half Time show. Asked if she planned to do anything to rival Janet Jackson's infamous nip-slip at the event in 2004, she sassed: "I have not mainstreamed and I'm not planning anything naughty. I'm planning something super entertaining." She then added, "Yep, yep! You don't have to show nipples to be interesting and it doesn't necessarily mean you're cutting edge if you do right?" Miaow!



When she dug out the Dictionary to sass Lady Gaga

The war of words between Madonna and Gaga fans can get a little heated. But in 2011, Gaga's single 'Born This Way' fanned the flames as some claimed there was a similarity to Madonna's 1989 hit 'Express Yourself'. Asked in an interview about Born This Way, she said it felt "reductive". Asked is that was a good thing, she cheekily responded: "Look it up."

When she spoke her mind about Donald Trump

Speaking about the election of the US President, she said: "It felt like a combination of the heartbreak and betrayal you feel when someone you love more than anything leaves you... I feel that way every morning. I wake up and say, 'Oh, wait, Donald Trump is still the president,' and it wasn't a bad dream that I had."

When she gave Piers Morgan the silent treatment

The Good Morning Britain sofa-dweller never has a good word to say about the Queen of Pop. In fact he seems slightly obsessed with her, constantly tweeting and ranting to anyone who'll listen about how Madge should cover up, grow up, act her age... you get the idea.

Madonna's response? A devastating silence. This may have been her greatest (and classiest) putdown of all!
They did not see that coming!
The couple have said they'll donate revenue from this video to the "LGBT+ Switchboard" and charity "It Gets Better".