WATCH: The Heart Presenters Taught To Dance by The Stars Of Our Advert
Learn the moves with Jamie and Emma, JK and Lucy, Sian, Jenni, Matt and Toby!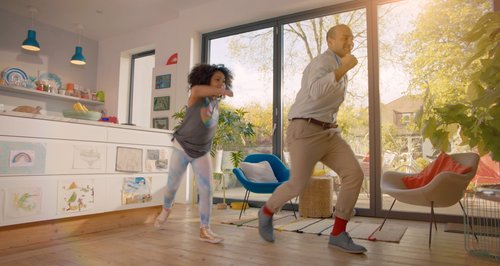 It's nearly Father's Day, so what better time to remind you to keep an eye out for Heart's brand-spanking new TV advert, which depicts some of the most mind boggling dad-dancing you're ever likely to see? We hope you agree that it's the definition of feel-good!
To celebrate the advert bringing us continued good times, we invited one of its stars, Mimi, to join us in the Heart studio for a little boogie. She certainly has the moves like Jagger, to borrow a phrase, as we saw in the video, so we thought we'd get her to teach our presenters – some of whom, naming no names, have two left feet – how to dance as well as she does. Let's just say that some were better than others!
Play
Heart Presenters Learn The 'Mimi' Dance!
02:21
Jamie and Emma gave it a go, as did Sian, JK and Lucy, Toby, Matt and Jenni. Matt summed up his own dad dancing pretty perfectly: "I think as I've become a dad, it's definitely gone downhill." At the end of the lesson, it was time for the tremulous presenters to await Mimi to pass judgement – could anyone score a perfect 10?
You'll have to watch the whole thing to find out – all we're saying is that Jamie's best pleased with the result and there's a surprise in store for Toby Anstis. Keep your eyes peeled for the advert and, as the Strictly judges would say, "Keeeeeeeep dancing!"
A little bit LOVE it!
Very interesting theory...
Recently Played Tracks
To listen live, choose your preferred station:
Stay tuned...
Now playing: The best feel good music