JK Rowling Shows Her Wicked Side With Teasing Fantastic Beasts Sequel Tweet!
It's official JK Rowling has written the script for the Fantastic Beasts and Where to Find Them sequel... but this Tweet just makes us want to scream!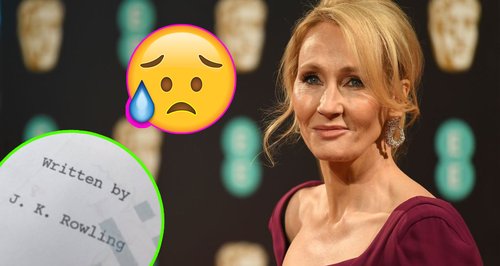 JK Rowling has a very strict definition of the word 'spoiler'!
She's written the script for the sequel of Fantastic Beasts and Where to Find Them, which we thought was AMAZING!
But instead of giving us - her loyal fans - ANY hints as to the plot of the movie, she simply Tweeted a picture of the script with her name on the cover.
Come on, JK! Can we not have the first line? A set piece? A teeny tiny clue as to what will happen now that Johnny Depp's Grindelwald is back on the scene?
Just look at this cruel Tweet...
Having a Beastly day... pic.twitter.com/xRGCC9gt3B

— J.K. Rowling (@jk_rowling) February 27, 2017
Just to add insult to industry, JK added the caption further: "Having a Beastly day."
Oh to live inside her mind for a day!
The first Fantastic Beasts movie starred Oscar-winning actor Eddie Redmayne as the 'Magizoologist' Newt Scamander, Inherent Vice's Katherine Waterson as a witch named Tina and Colin Farrell as the mysterious wizard, Graves.
Unfortunately we have ages to wait for the next movie... it doesn't come out until November 2018.
Shooting on the project is due to begin this August and will take place in London and Paris.
Let's face it, it's JK Rowling... she's never going to let us down by writing a naff script!
Are you excited to see the Fantastic Beasts and Where to Find Them sequel?
This video of Amber performing on stage before she entered the villa reveals her incredible singing voice!
James Corden poked fun at Donald Trump in the best way after he revealed his transgender military ban this week.