Are Monica And Chandler Dating In Real Life?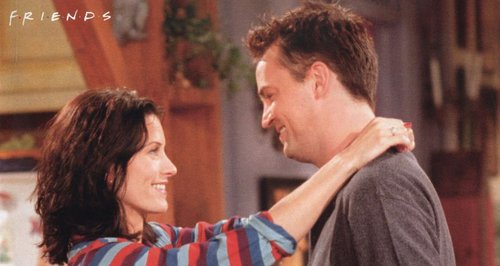 The news that has been doing the rounds lately suggests that Courtney Cox and Matthew Perry - who played Monica Geller and Chandler Bing in Friends - could be more than just 'friends'. Could we BE any more excited?
HOWEVER, before we get totally and hysterically carried away with things, let's get our facts straight.
According to US reports, Courtney Cox and Matthew Perry met up after it was announced that Courtney had split up from her financé, Snow Patrol's Johnny McDaid.
And then came this tweet to whip us into a Friends frenzy:
matthew looks at courteney the same way chandler looks at monica and i don't know what to do with myself pic.twitter.com/8V1gpvnCCJ

— emma (@mccallbing) December 1, 2015
Now, you know we are HUGE Friends fans and it breaks our heart to have to tell you but... this photo was in fact taken back in 2005, shortly after filming ended. If you look closely, Courtney is wearing her wedding ring because she was married to actor David Arquette at the time.
For those of you who don't know (seriously, where have you been?), Monica and Chandler were the two pals in the friendship group who ended up marrying each other and living happily ever after.
So this piece of news didn't stop us completely losing ourselves:
I'm way happier than I should be that Matthew Perry and Courteney Cox are dating in real life, but you know what? CHANDLER & MONICA 4 EVS

— Pete Blackburn (@PeteBlackburn) December 17, 2015
Courteney Cox and Matthew Perry are rumored to be dating. If Monica and Chandler end up together in real life I'll believe in love forever.

— Nicolette Cunningham (@NCunningham88) December 18, 2015
Courtney Cox and Matthew Perry aka Monica and Chandler Bing are dating. IN REAL LIFE. I AM SO HAPPY
Prepare to groan.
The Jamaican sprinter is set to give a whole new meaning to the word fast-food.