WATCH: This Dog's Reaction To Owner's Beautiful Bowie Tribute Is Priceless
This might just be the cutest thing on the internet right now.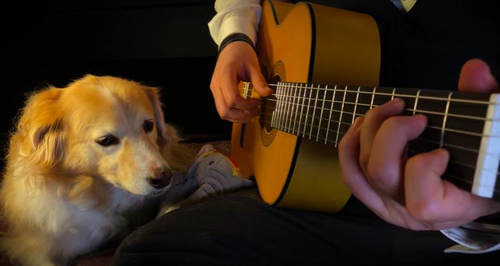 It's been 48 years since the late music legend, David Bowie, released Space Oddity and it means as much to us now as it did back then.
Nowadays, bands often cover the track in an attempt to recreate Bowie's genius but they never quite live up to the standard of the legend himself.
Play
This dog's reaction to his owner's Bowie tribute is beautiful.
01:18
However, despite his passing back in January 2016, his music lives on.
One pet owner decided to cover the timeless song on his acoustic guitar, turning the pop song into a beautiful ballad, and played it to his dog, Maple.
And what happens next will melt your heart - it's a must watch video.
Be sure to catch the moment for yourself.
She took the mirror selfie before the reverse camera was even a thing! Say what?!
You know nothing, Jon Snow.
Recently Played Tracks
To listen live, choose your preferred station:
Stay tuned...
Now playing: The best feel good music