Hottest Tours In Town! Madonna, Jason Donovan, Take That and More!
Don't miss out on your chance to grab seats at the most in demand tours from some of Heart's biggest artists! Plus Ed Sheeran releases his X tour live trailer...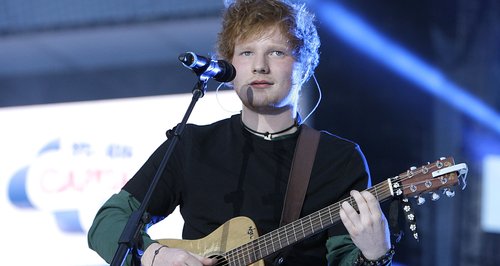 are just some of the artists featured on the Heart playlist that will be heading out on tour to perform their biggest hits! So if you've found yourself belting out your own kitchen rendition of the best tunes on the UK's biggest commercial radio station, then check out our round-up of the best concerts in 2015 and beyond!
Jason Donovan
The Heart DJ and 80s pin up is heading out on tour! No-one knows the 80s better than the Australian 'Neighbours' star, who will be belting out his greatest hits for you to sing a long to. Relive on of the greatest decades in musical history with our Jason on his 'Ten Good Reasons & Greatest Hits Tour' during his 23 dates across the UK - you'd be mad to miss it!
For The Rebels At Heart!
Madonna:
The queen of reinvention has announced her tour 35 City 'Rebel Heart' Tour for North America and Europe!
Following her talked about Grammy's performance, the queen of pop's tour kicks off in Miami on August 29, with additional dates to be added in Australia and Asia soon.
Madge's Europe and UK dates are as follows:
Nov. 4 - Koln, Germany - Lanxess Arena - On Sale Mar. 16
Nov. 7 - Prague, CZ - O2 Arena - On Sale Mar. 16
Nov. 10 - Berlin,Germany - Mercedes-Benz Arena (02 World) - On Sale Mar. 16
Nov. 14 - Stockholm, Sweden - Tele 2 Arena - On Sale Mar. 16
Nov. 17 - Herning, Denmark - Jyske Bank Boxen - On Sale Mar. 9
Nov. 21 - Turin, Italy - Pala Alpitour - On Sale Mar. 16
Nov. 24 - Barcelona, Spain Palau Sant Jordi - On Sale Mar. 16
Nov. 28 - Antwerp, Belgium - Sportpaleis - On Sale Mar. 9
Dec. 1 - London, UK - O2 Arena - On Sale Mar. 16
Dec. 5 - Amsterdam, Holland - Ziggo Dome - On Sale Mar. 9
Dec. 9 - Paris, France - Bercy - On Sale Mar. 9
Dec. 14 - Manchester, UK - Manchester Arena - On Sale Mar. 16
Dec. 16 - Birmingham, UK - Barclaycard Arena - On Sale Mar. 16
Dec. 20 - Glasgow, Scotland - The SSE Hydro - On Sale Mar. 16
Prepare to groan.
The Jamaican sprinter is set to give a whole new meaning to the word fast-food.
Recently Played Tracks
To listen live, choose your preferred station:
Stay tuned...
Now playing: The best feel good music