Take That Dedicate New Song 'Hope' To Victims Of Manchester Tragedy
Gary Barlow says Take That's new song 'Hope' will be dedicated to the victims of the recent terrorist attack in Manchester.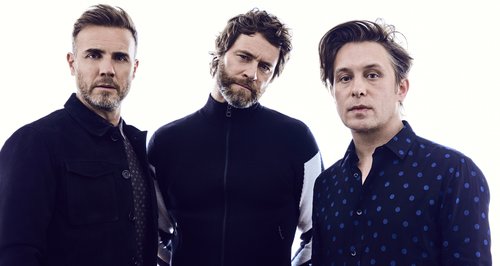 The 46-year-old singer was due to perform alongside Howard Donald, 49, and Mark Owen, 45, for three nights at the Manchester Arena this week but the show have been cancelled due to the horrific attack at Ariana Grande's concert at the venue on Monday night.
@GaryBarlow A great idea on the gbarmy about you guys realising HOPE as a charity single for the families and victims

— ǂ #MarkToKerrys40th (@abbielou1231) May 24, 2017
Gary confirmed on Twitter that the song 'Hope', take from their latest album 'Wonderland', will be sung in memory of those who lost their lives in the horrific attack.
In reply to @abbielou1231, who asked if they could dedicate a song, Gary replied: "Yes Hope! Xx (sic)."
Take That were due to perform at Liverpool Arena on Tuesday, the day after the attack, but the group postponed their gig and rescheduled it for Friday.
In another tweet Gary urged fans to "sing a little louder" at their rescheduled show in the English city to show the terrorists that British people will not be cowed.
He wrote: "See you Friday night Liverpool! We need to sing a little louder, reach a little higher and clap our hands a little harder #together (sic)"
See you Friday night Liverpool ! We need to sing a little louder, reach a little higher and clap our hands a little harder #together

— Gary Barlow (@GaryBarlow) May 24, 2017
Gary also said they would honour a minute's silence in respect for those who died.
Both Howard and Mark hail from the Greater Manchester area and Gary was born in the county of Cheshire – just outside of Manchester.
On Wednesday, Gary urged his fans to keep negative comments or posts off his Twitter account.
He tweeted: "How's the gang today? So lovely we can all chat on here and support each other! Let's keep anything negative off this account #together (sic)"
Ariana has indefinitely suspended her 'Dangerous Woman Tour' following the tragic incident and has returned home to Florida.
According to TMZ, Ariana will put her gigs in the UK, Belgium, Poland, Germany and Switzerland on hold, although no official announcement has yet been made.
Hours after the tragedy, Ariana took to social media to say she had been left "broken" by the incident.
She tweeted: "broken. from the bottom of my heart, i am so so sorry. i don't have words."
A little bit LOVE it!
Very interesting theory...
Recently Played Tracks
To listen live, choose your preferred station:
Stay tuned...
Now playing: The best feel good music