These Are The Four Bake Off Semi-Finalists And Their Most Bonkers Recipes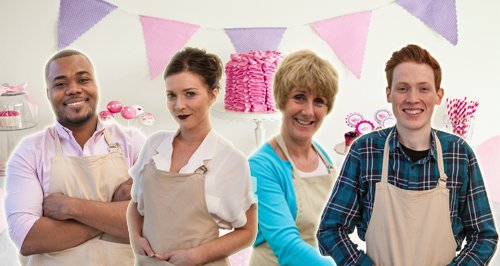 We take a look at the 'Great British Bake Off' contestants who are on the verge of clinching victory, and the crazy recipes that helped them rise to the challenge.
If you're a Bake Off fan, then the countdown to finding out which contestants will make it through to the grand finals is a bit like the lead up to Christmas.
Considering the show is moving to Channel 4 next year, there is more pressure than ever for the contestants to be crowned the last ever Great British Bake Off winner on the beeb.
Jane Beedle, Candice Brown, Selassie Gbormitta and Andrew Smyth have all impressed judges Mary Berry and Paul Hollywood with their skills in the kitchen, but who will come out on top?
We take at look at their credentials and their craziest recipes to date.
ANDREW, 25
STAR BAKER: Once
JOB BEFORE BAKE-OFF: Aerospace engineer for Rolls- Royce.
BAKING BACKGROUND: He used to bake with his nan and first learnt to make chocolate cupcakes in her kitchen.
MOST BONKERS RECIPE: Gingerbread scene of himself punting in Cambridge, where he studied.
CANDICE, 31
STAR BAKER: Three times.
JOB BEFORE BAKE-OFF: PE teacher at a secondary school.
BAKING BACKGROUND: Candice's grandmother taught her how to bake.
MOST BONKERS RECIPE: She took risqué in Pastry Week with her Danish Pastry Croque Monsieur Kites with creamy cheese sauce, pancetta and mushrooms, and Cinnamon Apple, Vanilla Créme Rose Danish. The gamble paid off and it landed her in second place.
JANE BEEDLE, 61
STAR BAKER: Once.
JOB BEFORE BAKE-OFF: Garden designer.
BAKING BACKGROUND: Jane's baking skills were passed down to her by her mother.
MOST BONKERS RECIPE: Making huge pastry cones filled with cherry and chocolate for the showstopper round in Pastry Week, in which the  bakers  were meant to present mini amuse-bouches.
SELASI GBORMATTI, 30
STAR BAKER: Never.
JOB BEFORE BAKE-OFF: Banker.
BAKING BACKGROUND: Selasi found his love for baking whilst studying at university after his friend Sally taught him how to make fairy cakes and pizza.
MOST BONKERS RECIPE: A full gingerbread church, complete with edible stained glass windows, based on the church he went to as a boy in Ghana.