Are Carol Vorderman AND Larry Lamb Gearing Up To Leave The I'm A Celeb Jungle?!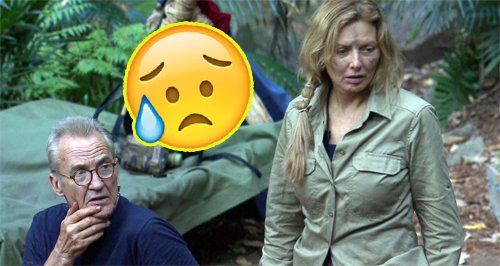 Say it isn't true! Two of our favourite contestants are reportedly packing their camping bags and hitting the bridge...
We can't take much more of the 'I'm A Celeb' hijinks this year!
Rumour has it that morale has slipped so low in the camp that two of the celebs are preparing to leave the show for good.
Uh oh!
Apparently, Carol Voderman and Larry Lamb are so desperate they're getting ready to pack their bags and walk out!
So, what went wrong? Eliminated contestant Danny Baker let slip that former 'EastEnders' actor Larry Lamb was desperate to go. He told The Sun newspaper: "Larry is good to go. He looked over and gave me the eye as I went out. He said 'what did you do? Tell me what you did and I'll do it today'."
Since this revelation, another former campmate Lisa Snowdon admitted that Carol is feeling equally miserable.
But, unlike Danny, Lisa doesn't think Larry and Carol will just up sticks...
She told Good Morning Britain: "Larry won't leave [voluntarily], none of them will… but they are ready to go."
Well, it's not like they're in a five star hotel... we can't imagine many people enjoying it!
Larry has had a tough time of it over the last few days following a tense row with 'Homes Under the Hammer' presenter Martin Roberts. We could tell you what was said, but that would involve lots of censoring, bleeping and *** to hide naughty words!
What do you think, will Larry and Carol walk away?