Cold Feet Finale Left Fans Wondering If Adam Will Be Back For Series 7!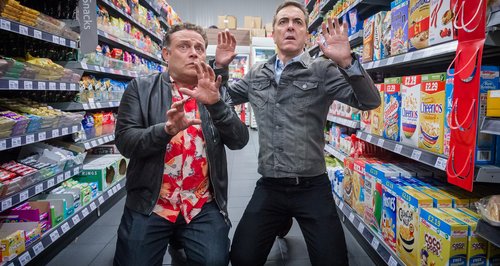 There was a tense moment in an off-licence that had us thinking that maybe Adam might not be around for the next series...
Last week ITV announced that Cold Feet would be returning for another series. However, the comeback's series finale had fans on the edge of their seats at one point when it looked like Adam might not be around for the next series.
We're talking about THAT hostage situation of course.
When you wanna get back to the party but you're at a hold up and SOMEBODY NEEDS TO PAY FOR THE BISCUITS ALREADY #ColdFeet pic.twitter.com/q5HlnXpJGP

— ITV (@ITV) October 24, 2016
When Adam (James Nesbitt) and Pete (John Thomson) popped out to the off-licence to buy some more booze for Adam's surprise birthday party, they found themselves unexpectedly held at gunpoint.
What are the chances that the best friends happened to be in the shop exactly the same time that a crazed
And things got even worse when the cashier hit the panic button under the counter which meant the store went into lock-down, trapping everyone inside the store - complete with deranged gunman - until the police arrived.
Some viewers were confused at the hostage situation:
Is this #ColdFeet or #LuckyMan?
I'm getting confused with Jimmy Nesbitts role tonight in this corner shop scene

— Tim Wadfather Shots (@TimboATFC) October 24, 2016
Whilst others thought this scene marked the end of Adam's time on the show, despite this series making a 13 year comeback:
Hands up who thought that was going to end with someone being shot #ColdFeet

— Chloë (@Chlobeemcflyfan) October 24, 2016
No don't shoot Adam!!! #ColdFeet

— Michelle Palagano (@Shellby1978) 24 October 2016
Jesus. Poor Adam... #ColdFeet

— Steve H (@bandit4470) 24 October 2016
Others couldn't cope:
Cold feet got me shaking...stop doing this to me #ColdFeet

— Loz (@LaurenDianneX) October 24, 2016
Hahaha #ColdFeet
It's mental this episode

— Sue (@Happy_Susie) October 24, 2016
#ColdFeet
... and breathe
my partner's doubly relieved as I've stopped crushing his hand

— Hedd Emrys (@HeddEmrys) October 24, 2016
Me watching #coldfeet right now pic.twitter.com/e0YJbi9QIS

— Claire swindell (@swinders25) October 24, 2016
Adam's surprise party wasn't half full of surprises #ColdFeet

— Amy (@giedroycperkins) 24 October 2016
And the episode got some serious Heart lovin':
LOVED last night's #ColdFeet finale. Such great writing & brilliant acting-sad the series has ended but delighted it'll be back in 2017! /p>— Jenni Falconer (@Jennifalconer) 25 October 2016
Typically great and emotive finale to the brilliant #ColdFeet @ITV Roll on the next series next year

— Toby Anstis (@tobyanstis) 24 October 2016
It's okay though because Adam and Pete survived and Adam was inspired to go get the girl aka his landlady Tina, played by Leanne Best.
However, it's this tweet that sums it up best of all...
I don't want #ColdFeet to end!!! @ITV #ColdFeetParty pic.twitter.com/QPzZBtMJGz

— Kirsty (@KBMarketing) October 24, 2016
Until 2017 Cold Feet-ers!