Shock For 'Corrie' Fans As Sally's SISTER Returns After 28 Years
Sally Webster's half-sister Gina Seddon hasn't been seen on the show since 1989 and her return will send shockwaves through the cobbles.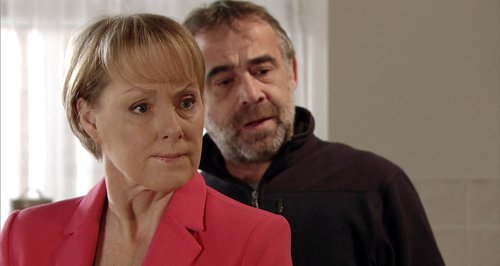 Viewers of Corrie are in a for a big shock as producers are set to bring back Sally Metcalfe's half-sister Gina Seddon after 28 years.
The character hasn't been seen on the show since 1989 when she stayed with the Websters, and it's thought her return will send shockwaves through the cobbles.
Since Gina left, Sally has mentioned her in passing but hasn't really had much to do with her since 2010 when she briefly left the cobbles to stay with her estranged sibling following her treatment for breast cancer.
She's known as the troublemaking bad penny of the family. It remains to be seen what Gina's return will bring to the table for the Metcalfes and Websters, but something tells us Sally won't be happy about her arrival.
New pictures caught The Bill actress Connie Hyde in her role as Gina alongside Helen Flanagan's alter ego Rosie, who apparently goes in search of Gina.
Speaking about Sally's prospects for the future producer Kate Oates told Inside Soap : "Sally and Tim are set to struggle. Sally might be a snob but she has a good heart and has worked hard to get where she has, working for the council. So the idea that she might be forced out is a frightening one.
"In the midst of all of this, there will be a face from the Webster past making a return. Sal's girls are back already but someone else will be turning up to extend the family even further."
We're sure it will be a thrilling watch!
She took the mirror selfie before the reverse camera was even a thing! Say what?!
You know nothing, Jon Snow.