Fans SLAM Helen Flanagan's 'Awful' Acting In Her Return To The Cobbles
Helen Flanagan has made her comeback as Rosie Webster in Coronation Street, but not everyone was happy with her performance...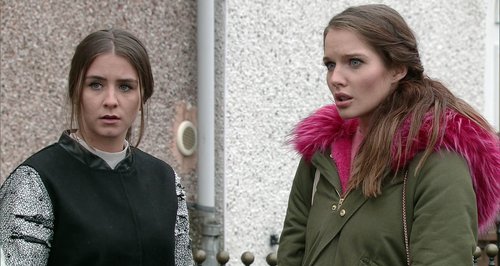 Whilst Helen Flanagan celebrates her return to Coronation Street, she might want to steer clear of Twitter, where Corrie fans vented their less than impressed feelings about her performance.
Helen, 24, made her comeback to the show as Rosie Wester with her onscreen sister, Sophie Webster, played by Brooke Vincent, but the pair soon found themselves in trouble with the police.
Yep, this is my exact reaction to Rosie too Billy #corrie pic.twitter.com/6WgcCWHmk4

— Den (@Denlives1) February 8, 2017
Helen is on a three-month contract at Corrie for the moment and recently revealed Rosie looks set for a romance with Adam Barlow.
Speaking on Loose Women, she said: "There's a spark with Adam Barlow."
However, fans were not satisfied, with one fan dubbing her return "the worst decisions ever - bringing back Rosie Webster."
@itvcorrie one of the worst decisions ever - bringing back Rosie Webster She is awful and a terrible actress #Corrie

— Dawn deedee (@desertgold2) February 9, 2017
#Corrie . Why did they bring back that awful actress (Helen Flanagan) as Rosie,she's got worse,can't act to save her life.

— Christina Ikens (@recycledikens) February 9, 2017
OMG what's happened to rosie Webster on corro, she's come back even more dumb than when she went!! #Corrie #coronationstreet

— Elaine Owen (@elaineowen79) February 9, 2017
Is it me or does Rosie look like something out of a scary movie??!! #corrie

— Jackie Touray (@Tourayjax) February 8, 2017
However, not all fans are disappointed with her return:
.Hahahaha #Rosie is a BRILLIANT character! comical! #corrie @itvcorrie

— PAUL CULSHAW (@PaulCulshaw1983) February 8, 2017
SO HAPPY ROSIE'S BACK!!! @itvcorrie #Corrie

— lauren (@Laurenmcgowan23) February 8, 2017
Coronation Street will be back on Friday 10th February 2017, at 7:30pm on ITV.
They did not see that coming!
The couple have said they'll donate revenue from this video to the "LGBT+ Switchboard" and charity "It Gets Better".