Eastenders Fans Left Shocked And Confused As Dot Is 'Killed' By Dave The CAT
Eastenders viewers were left in a state of shock after Dot Branning was left unconscious on the floor of her kitchen after tripping over her cat.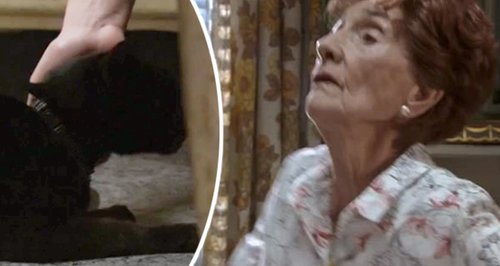 We were left in a state of shock, horror and confusion on Monday night as two of out favourite things - cats and Dot Cotton - collided to create something horrendous.
Viewers at home were left wondering whether the 90-year-old character - who has been in the show for 32 years now - was going to pull through after suffering a terrible fall that left her struggling for help.
Play
Dot Cotton's frightful fall on EastEnders
The soap veteran is left unconscious after tripping over her cat, Dave.
00:40
So who pushed her? Was it an intruder? One of her many enemies? Nope, it was just her cat, Dave!
Dot's loving companion is behind her stint in hospital as she accidentally trips over him. You might laugh, but it was serious business!
Dot's "fall" was the most random thing I've ever seen #EastEnders

— Ben (@bilbo983) June 26, 2017
Imagine playing Dot In #EastEnders for that many years and getting killed off because you tripped over your cat, alone.
— Laura Ellis (@laurell_x) June 26, 2017
If dot from eastenders is dead I'm literally going to swallow my own tongue

— Ashleigh Woolsey (@WoolseyAshleigh) June 26, 2017
Thankfully, Dot's step granddaughter Sonia Jackson – a trained nurse - makes her comeback on Tuesday and is horrified to find her elderly relative just a whisker from death.
Of course, Dot recovers well and is soon seen chatting away to Jack from her hospital bed.
Phew. Because a life without Dot Cotton in Eastenders is unimaginable...
EastEnders returns tonight on BBC One at 7:30pm.
She took the mirror selfie before the reverse camera was even a thing! Say what?!
You know nothing, Jon Snow.
Recently Played Tracks
To listen live, choose your preferred station:
Stay tuned...
Now playing: The best feel good music