Sonia Fowler Horrified By What She Finds In Dramatic Return To EastEnders
Just when all seems hopeless for Dot Branning, in walks Sonia...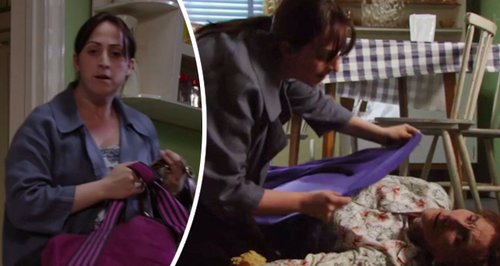 Natalie Cassidy made a big EastEnders comeback as Sonia Fowler last night but was left shocked at what she found upon her return.
As the trumpet-player nurse let herself in to Dot Branning's house in Albert Square, she was horrified to find her grandma lying unconscious and shivering on the kitchen floor.
Play
Sonia Fowler returns to EastEnders
00:43
In the previous episode, viewers watched in vain as the 90-year-old EastEnders veteran dramatically fell to the floor after tripping over her cat, Dave.
Although fans weren't sure if Dot was going to make it, we were thrilled when it was Sonia who turned up out of the blue to save her grandmother, despite her horror at finding her elderly relative just a whisker away from death.
Play
Dot Cotton's frightful fall on EastEnders
The soap veteran is left unconscious after tripping over her cat, Dave.
00:40
Sonia's return has struck another chord with fans who have been left begging the question: will Sonia and Tina Carter rekindle their romance?
We last saw the couple reunite after Sonia's last return, she arrived at Sylvie's funeral to support Tina.
As the pair find themselves on each others' radar again in coming scenes could there be a reunion?
EastEnders returns tonight on BBC One at 7:30pm.
This video of Amber performing on stage before she entered the villa reveals her incredible singing voice!
James Corden poked fun at Donald Trump in the best way after he revealed his transgender military ban this week.