Gino D'Acampo And Christine Bleakley's TOTALLY Obviously Flirting Is Just Too Much For Phil To Watch!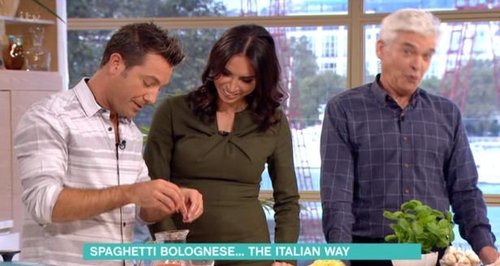 Things are heating in the This Morning kitchen while Holly Willoughby is away this week as her temporary replacement Christine Bleakley and Gino D'Acampo have been flirting like crazy.
As Holly Willoughby is away this week, the lovely Christine Bleakley has stepped into her shoes to help out Phillip Schofield and join their celebrity guests on the couch of This Morning.

Phil may have got more than he bargained for though as he was forced to play third wheel to some rather cheeky banter between his fellow co-host and the Italian chef.
The pair got up close and personal as the chef whizzed up a delicious looking Spaghetti Bolognese.
The conversation between the pair went something along the lines of a blushing Christine mumbling: "Why you looking at me like that?"

To which Gino brazenly replied "Nothing I'm just admiring your beauty".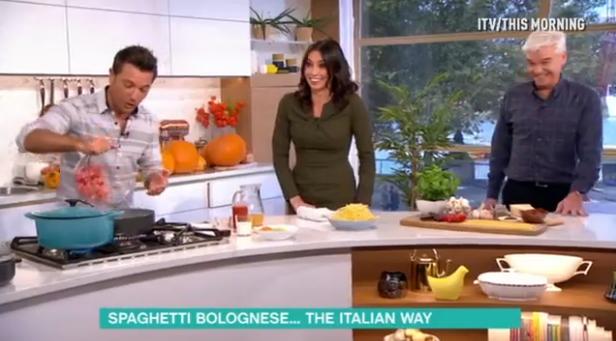 Fans of the TV programme of course found it hilarious!
I am almost sure Phil hates Gino! #thismorning

— Stacey (@Stacey_Tee) October 17, 2016
Gino needs to stop flirting over his colleagues.#ThisMorning

— ANDY GIBSON (@AndyGibsonTV) October 17, 2016
Poor Phil was left out in the cold, feeling more than a little out of place as he replied: "I'm feeling a little awkward standing here i'm honest"

Well you know what they say Phillip, if you can't stand the heat ahem, ring the hubby Frank Lampard!