Fans Are Left DISTRAUGHT After This Bake Off Break Up
As Benjamina Ebueh was asked to leave the Great British Bake Off tent in the quarter finals, viewers were left asking, 'will Benjamina and Selasi Gbormittah ever bake together again?'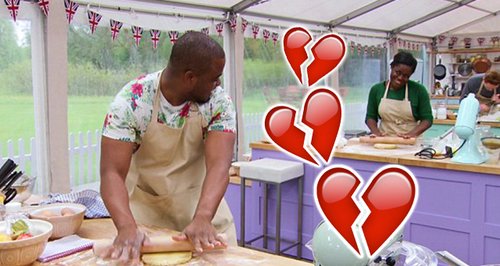 As the Great British Bake Off enters the final stages of the competition, fans were left an emotional wreck when one half a what seemed to be a budding romance, was sent home packing after her showstopper failed to impress.
That's right, it was Benjamina Ebuehi, 23, who was asked to leave the Bake Off tent in the quarter finals, dubbed Tudor Week.
No more tears! So so proud to have finished as a quarter finalist! V excited for what's to come! #GBBO #blessed Thank you all!!

— Benjamina (@bakedbybenji) October 12, 2016
Viewers have been watching the budding friendship between Benjamina and Selasi play out week by week, leaving fans hoping for the first Bake Off off-screen romance.
In her last, emotional, piece to camera, Benjamina said: "I knew it but yeah… To get this far is an achievement so yeah…I'm really proud.
"I'm gonna keep on baking – no marzipan, no Tudor ever. In my life. But it's so much fun being in there. It's so much fun baking with everyone.' 'I think that's the part I'm going to miss the most."
Sister from another country,keep on baking missy.U're a good egg and an awesomely talented baker.Learned a few tricks from u.God Bless #GBBO pic.twitter.com/MrK14fX7vV

— Selasi Gbormittah (@selasigb) October 13, 2016
Selasi, 30, then tugged at heartstrings as he confessed that he's going to miss his "sister".
He said: "It's a shame to see her go. She was a proper sister to me. She's probably the only one who thinks I'm really funny! Everyone else thinks I'm not funny at all. So yeah - it's good to have a friend like that."
Forget Brad and Angelina, this is the saddest breakup of 2016 #GBBO pic.twitter.com/gRfOlA0KWk

— Mary Mc Intyre (@Mc1988) 12 October 2016
Also, is anyone else devastated about the departure of Benjamina from #GBBO ?! I don't think I'll recover from the her and Selasi breakup?!

— Vicky Pattison (@VickyPattison) October 12, 2016
No more Selasi and Benjamina, this is devastating #GBBO

— Glen Griffiths (@TheGlenderman) October 12, 2016
No more Selasi and Benjamina, this is devastating #GBBO

— Glen Griffiths (@TheGlenderman) October 12, 2016
Okay, we need to stop before we get too carried away with ourselves - Selasi does actually have a girlfriend who he lives with in London.
But we hope that Benjamini goes on to bake great things...
And she was joined by royalty!
She took the mirror selfie before the reverse camera was even a thing! Say what?!