Holly Willoughby Is Accused Of FARTING Live On Air And Can't Stop Laughing!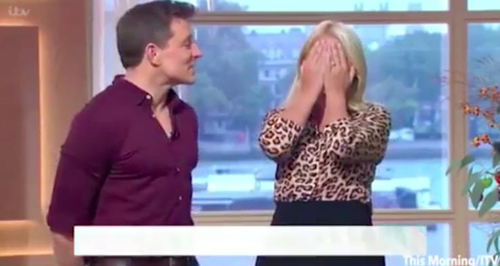 We'd never imagine lovely Holly to be the type to do THIS live on This Morning! What do you think...
By now we should be used to Holly Willoughby's fits of giggle moments on This Morning, but nope, they STILL have us rolling around the floor laughing!
And today's giggle fit with Ben Shepherd was particularly hilarious...
He accused the star of FARTING!
Holly Willoughby passing wind on live TV? Surely not!
But as the show returned from an ad break the pair were caught hysterically laughing before Holly burst and shouted at Ben to express that she wasn't the guilty party.
She tried to regain composure and introduce the next guest, Breaking Bad star Bryan Cranston, on the show but couldn't hold it in and said 'Now he thinks I did a trump!'
Oh Holly, we believe you!