Honey G Left A Note For X Factor Semi-Finalists And It's Not What You Think
This year's controversial X Factor act, Honey G, has left fans wiping a tear from their eyes with this heartfelt note she left the semi-finalists.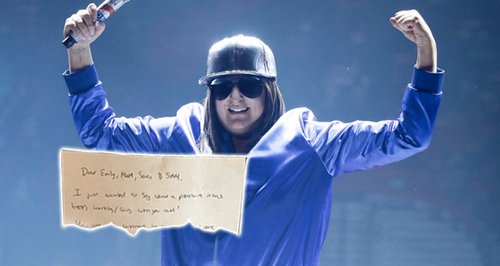 Despite rumours of tension with the other X Factor contestants, Honey G has melted hearts with the letter she left to the finalists when she moved out of the contestants house.
The controversial rapper, real name Anna Gildford, was voted off the show during the quarter finals (to many viewers annoyance).
This made me smile this morning! Thank you @The_Honey_G you will be missed girl! pic.twitter.com/pJHF3ZO5VJ

— Emily Middlemas (@emilymiddlemas_) November 29, 2016
Emily Middlemas, 5 After Midnight, Matt Terry and Saara Alto have survived the show so far to compete in the semi-finals this coming weekend.
Honey G congratulated them on their success by leaving them a soppy note. It read:
"I just wanted to say what a pleasure it has been working/living with you all! You are all winners in my eyes and are all incredibly unique in your own way.
"I am sure you will all go very far and I truly hope you all get what you wish for!
"Best of luck to you all! See you at the final!"
Emily tweeted a photo of the message saying: "This made me smile this morning! Thank you @The_Honey_G you will be missed girl!"
Wait, what's that feeling we're having? Are we sad to see her go? Maybe we do have a heart...
Love is a losing game
This video of Amber performing on stage before she entered the villa reveals her incredible singing voice!
Recently Played Tracks
To listen live, choose your preferred station:
Stay tuned...
Now playing: The best feel good music