How Far Would You Make It In The Great British Bake Off? Take The Test!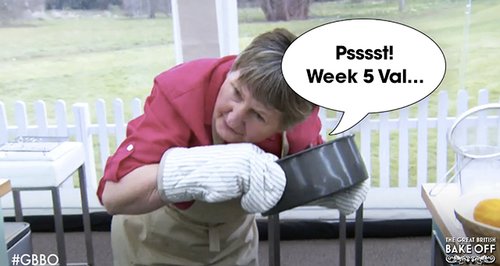 Here's all you need to know about the Great British Bake Off finale, from what time it's on to who's still left in the competition. Plus, find out how far you would get in the competition by taking the test!
We've dedicated our Wednesday nights for the past nine weeks to the Great British Bake Off and this week - week 10 - is the finale. Who will be crowned champion baker?
We take a look at what you can expect from tonight's finale. Here are all of your questions answered.
What time is the GBBO finale on?
SSSHHHHH! Val's pan is trying to tell us something… #GBBOFinal #GBBO pic.twitter.com/cDvxdOifbd

— British Bake Off (@BritishBakeOff) October 26, 2016
Incase the you've forgotten what time you've settled down to watch the show for the past nine Wednesday nights, here's a little reminder. Tune in to BBC ONE at 8pm on Wednesday 26th October 2016 (that's TONIGHT people!).
Who is in the final?
Last week the nation's hearts broke as we said goodbye to Selasi who's fondant fancies just didn't make the cut. However, that means that Candice, Jane and Andrew are here to fight another week. The competition is going to be a tough one.
What is the theme for the final?
Traditionally, the final doesn't have a specific theme. However, expect extravagant and ambitious bakes as the bakers try their hardest to impress judges Mary Berry and Paul Hollywood with their best bakes EVER!
What does the GBBO champion win?
Er... the title of Great British Bake Off Champion of course. Perhaps even the Ultimate Baker. So technically they don't win anything but the bakers often go on to achieve great things, often scooping a book deal. Remember Nadiya Hussain from series six? She went on to bake a cake for the Queen's 90th birthday AND host her own TV show. Honestly, the possibilities are endless.
When will the next series be on?
The BBC lost the rights to the show when Love Productions sold the show to Channel 4. Hosts Sue Perkins and Mel Giedroyc confirmed that they wouldn't be "following the dough", along with judge Mary Berry who has ties with the BBC. Paul Hollywood, however, sparked controversy when he confirmed he would be moving with the show. Because of these changes, series seven is likely to be aired in 2018.
Where is the tent?
The famous Bake Off marquee is set up in the grounds of Welford Park, near Newbury in Berkshire. The series is filmed over 10 weeks starting in April.
Remember to tune in to the Great British Bake Off series six final at 8pm on BBC One, Wednesday 26th October 2016
WAKEY BAKEY! RISE AND DINE!
IT'S #GBBOFinal DAY! #GBBO pic.twitter.com/vfoY78zGCz

— British Bake Off (@BritishBakeOff) October 26, 2016