Watch James Corden And Julianne Moore Breakup Using Only Taylor Swift Lyrics!
James Corden's only gone and done it again! With the help of Julianne Moore and John Stamos, they act out a soap opera breakup using only Taylor Swift lyrics!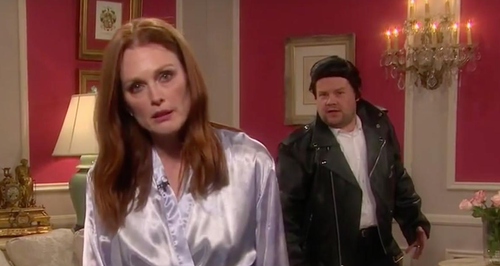 It's true that sometimes it feels like Taylor Swift has written the soundtrack to your life: Romeo and Juliet was quite clearly about that boyfriend you had that your mum didn't like. I Knew You Were Trouble was definitely about that girl you fancied but you knew you shouldn't, and 22 was totally describing your youth.
As ever, James Corden has taken this one step further and acted out a soap opera using only Taylor's lyrics! With the help of Julianne Moore (Still Alice ) and John Stamos (Full House ) The Late Late Show With James Corden has become the scene of a very dramatic breakup! It will have you in stitches!
Read more: 7 Hilarious Things You Didn't Know About James Corden
She took the mirror selfie before the reverse camera was even a thing! Say what?!
You know nothing, Jon Snow.
Recently Played Tracks
To listen live, choose your preferred station:
Stay tuned...
Now playing: The best feel good music