The Amount Honey G Could Earn After The X Factor Is Ridiculous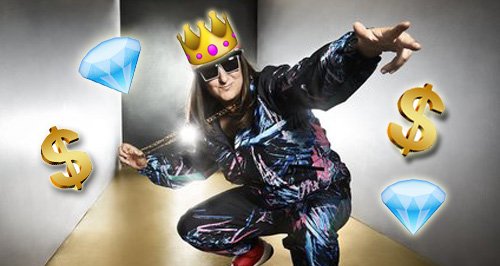 The controversial rapper is set to rake in the cash following her stint on the talent show.
She may refer to herself as H-O-N-E-Y G, but she could soon be spelling out her name as M-O-N-E-Y instead, as its thought Honey G is set to earn make plenty of dollar following her exit form the X Factor.
The 34-year-old 'North Weezy' rapper, who fancies herself as the next Jay Z, divided the nation more than Brexit with her questionable covers of famed rap songs on the show.
Despite backlash from the 'haterz' every week, Honey not only sailed through to the quarter-finals, but she also managed to bag herself a RECORD DEAL with none other than Simon Cowell following her exit.
Now Louis Walsh thinks that he can help Honey G make a fortune by cashing in on her fame with branded merchandise.
The long-running X Factor judge and famed boyband manager has already said he is happy to take the budding rapper under his wing and show her the ropes.
Talking about Honey's prospects for the future, Louis told Heat magazine: "I can see Honey G dolls and Honey G glasses and Honey G caps. She's on the X Factor tour as well."
"She's so sellable," Louis added. "She's already a star."
Louis might sound like he's taking crazy, but he could be onto something.
The news comes after the Daily Star reported that the rapper, who had lost 50,000 followers on Twitter, is set to make 'millions' as she gears up to release her very own single this month.