'I'm A Celeb' Winner Scarlett Reveals THREE Bizarre Things She'll Spend Her £1m Pay Check On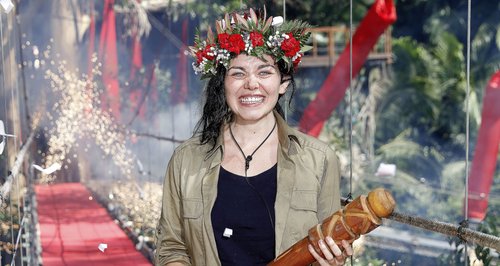 The Gogglebox star is expected to earn a whopping £1m in lucrative deals following her appearance in the jungle.
Scarlett Moffatt has revealed plans to have a boob job, a Willy Wonka style wedding and splash out on a caravan for her parents, in her first set of interviews since leaving the jungle.
The 'Gogglebox' star is no doubt still celebrating her victory after being crowned Queen of The Jungle on Sunday night, after winning the hearts of viewers over her finalists Joel Dommett and Adam Thomas.
With reports that Scarlett is set to make in excess of £1m following her exit form the jungle, talk quickly turned to how she'd spend her earnings, and of course a wedding was on top of the list.
The brunette beauty, who has been dating boyfriend Luke since February, says she can't wait to say 'I Do' and wants to take inspiration from Peter Andre and Katie Price's wedding in 2005.
Speaking to the Mirror, Scarlett said: "I love Luke so much. He's into aliens so he's my cup of tea. I have been planning my wedding since I was young. I think Jordan's marriage to Peter Andre was amazing. I loved it."
"I want mine to be like that. I want a glass carriage. I'd also like a Willy Wonka theme with centrepieces as sweets and munchkins as waiters."
That's not the only thing she'll be spending her cash on, as Scarlett also has plans to start work on her body, and admits she'd love a boob job to help keep things perky after shedding the pounds earlier this year.
The hilarious reality star told The Sun: "Now that I've lost weight, and my t*tties are cleaning my shoes, I would like them lifted to where they are meant to be."
Oh Scarlett... There's no mincing of words when you're around!
Scarlett, who dropped down from a size 16 to a size 8 after doctors warned that she's be at risk of developing Type 2 diabetes, explained that she had also thought about having her size J breasts reduced before she decided to shift the pounds.
"I would just love to be able to not have to wear a maternity bra, and have one that normal people wear. And that is one thing I'm going to look into next year."
Scarlett reportedly got paid £70,000 to head into the jungle and she plans on being generous with her earnings.
The loveable reality also revealed hopes of buying her parents and co-stars Mark, 50, and Betty, 40 to a caravan to spend their holidays in.
She said: "It would just be nice to buy my dad a caravan. I don't think I've ever felt as happy or content as I have now, so a million pounds isn't going to make any difference."
Despite her potential earnings hitting a seven figure sum, Scarlett insists she won't be irresponsible and would love to buy her own house.
Oh but maybe there's just one more thing she'd love to splurge on?
She added: "What else can I buy? Loads of chicken kebabs!"
That's money well spent Scarlett!