John Stape From 'Corrie' Has A VERY Festive New Job And It's Not What You'd Expect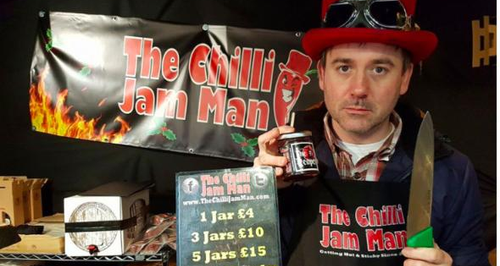 The actor terrorised the cobbles when he starred in the soap back in 2009.
If you're thinking about where you can buy a nice chilly jam for Christmas, then actor Graeme Hawley is your guy!
The soap actor, who made his way to fame as serial killer Graeme Hawley in 'Coronation Street' is now working on a market stall!
The 43-year-old actor bowed out of the soap in 2009 when his alter-ego John Stape died after he confessed he'd murdered three other people, and he's now been spotted selling jam at a Christmas fair in York!
Taking to their official Facebook account on Wednesday (14.12.16), the owners of The Chilli Jam Man said alongside a photograph of Graeme at their stall: "We thought we had enough scary things on our stall at York...that was until Corrie serial killer John Stape joined us!
He's going to be working on our stall Thursday, Friday, Monday, Tuesday and Wednesday, so if you're brave enough to face his menacing stare (and our scary chilli products) then come along and say hello!
"He may even let you go home to your family afterwards... Last date for Christmas orders online is midnight Sunday 18th. York market finishes on the 23rd, then we're putting the shutters up and getting a months worth of sleep (sic)."
Apparently the hilarious sighting isn't Graeme's new career just yet as he was actually covering for a mate as a token of good will in the lead up to Christmas.
According to The Sun newspaper, Graeme told a customer while he was working on the stall: "It's better than pants. I'm not the Chilli Jam Man. I'm the Chilli Jam Man's mate and I'm selling Chill Jam because the Chilli Jam Man's late."
Although he's only covering the stall for a friend who owns the company, standing out in the cold flogging jam makes a big change for Graeme as he was nominated for Villain of the Year in 2009 at the Soap Awards and then again at the same event in 2011.
Graeme - who is married to Elianne Byrne - hasn't completely waved his acting career goodbye since he quit the ITV soap as he's made various cameo roles in Channel 4's mini-series 'National Treasure' and has also taken part in stage shows!