Did Lisa Riley Lie About Having Weight-Loss Surgery? Star Takes LIE DETECTOR Test Live On Air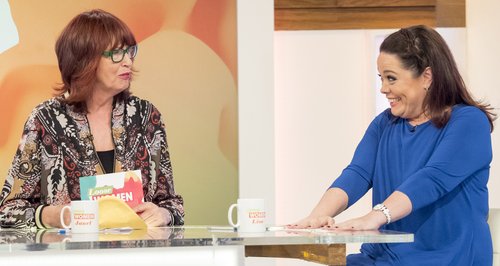 The former 'Emmerdale' star has been at the centre of speculation.
Lisa Riley has taken a nail-biting lie-detector test to prove that she has not had a gastric band to help her shed the pounds.
The former 'Emmerdale' star has been shrinking away after dropping an incredible SEVEN dress sizes in just 10 months earlier this year, prompting critics to believe she had undergone secret weight-loss surgery.
Lisa, who has openly spoken about her struggle with weight and an unhealthy relationship with food in the past, now fits comfortably into a size 16, having ballooned to a size 30 throughout her career.
Picture: (GETTY) At her largest Lisa Riley was a size 30
Now the 'Loose Woman' panelist has put an end to the speculation once and for all after taking a lie-detector test in front of a live audience.
Lisa admitted to the audience that she's been upset by claims she is a liar, explaining: "When I came on this show first time and the big weight loss was revealed…93 per cent of people are supportive."
"Basically, what's happened is the other few percent are calling me a liar. One thing I'm not is a liar. What I've done is such a good achievement."
Lisa answered four intrusive questions: Since January has she taken diet pills? Has she had liposuction? Has she had a gastric band? and has she had bariatric surgery?
Of course, the curvy actress passed with flying colours, and gushed: "Amazing. Such a sense of relief. Once and for all I draw a line under this. I haven't lied and there is the proof."
(Picture: GETTY) Lisa answered four intrusive questions but passed with flying colours.
Lisa explained that although she does sympathise with people who do opt for gastric bands, a method whereby a small silicone band is placed around the upper section of the stomach to restrict how much food can be consumed, she insists her fab new figure is down to exercise and a healthy lifestyle.
"People who have had gastric bands… brilliant, good on you. I did this my way. All I want to do is help other women and men." She explained.
"Fad diets didn't work remotely for me. Rome wasn't built in a day. I've done this slowly. I've been patient."
Good on ya Lisa!