'Married At First Sight' Viewers Can't Handle This AWKWARD Moment Bride And Groom Meet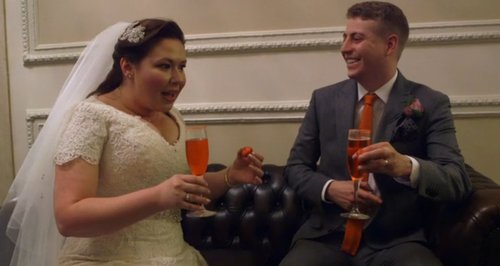 'Married at First Sight' kicked off with a few a hiccups last night that were nothing short of hilarious.
If you haven't watched Channel 4's quirky new dating show, then trust us when we say you might need to catch-up.
Viewers were left cringing during Tuesday night's episode of the reality show, which saw two couples tie the knot in front of their friends and family after meeting for the first time.
27-year-old marketing executive Lucie's nuptials to writer Steve, 30, captured the attention of audiences after the blushing bride's family appeared to mistake the best man for the groom.
Lucie's friends found themselves giggling like schoolgirls in the church pews when they became excited at the strapping young man they thought was set to marry their bestie.
Unfortunately for them the handsome fella was the best man. Whoops!
The channel 4 series sees a number of singletons opt to get married to their "perfect match" after being paired scientifically by producers.
They meet only for the first time at the altar, and unsurprisingly fans of the show weren't convinced that Lucie and Mark would stay together following their lukewarm reception upon meeting each other.
Lucie said that while he wasn't exactly what she'd expected she insisted: "He's funny - it's all good, it's all good."
Meanwhile, Steve rushed outside to have a smoke... err awkward?
After the nuptials the pair sat down for an "obligatory Game of Thrones chat" and appeared to get along swimmingly, but viewers weren't convinced.
"Yeah s/he seems nice" Steve and Lucie #MarriedAtFirstSight pic.twitter.com/4RhXDw5WSt

— Lia (@missconfig) 1 November 2016
Would you give love a try and get married at first sight? Let us know in the poll below.