Spot The Difference! Meet Kylie Minogue's New On-Screen Daughter In 'Neighbours'.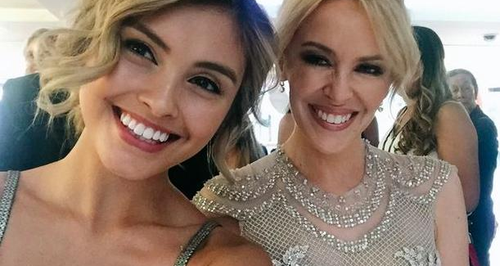 Kylie Mingoue hasn't appeared in the long-running Australian soap for over two decades but her legacy lives on in the form of new character, Madison, who has been cast as Charlene's daughter.
Kylie Minogue made her way to stardom on 'Neighbours' as Charlene over two decades ago.
Her on-screen romance with Jason Donovan's character Scott, captivated viewers and a whopping 20 million people tuned in to watch their wedding.
Now, the actress-turned pop star has passed the torch onto young actress Sarah Ellen, who is set to join the soap as Charlene and Scott's daughter Madison.
Giving her official seal of approval Kylie said in a statement to Australian news sites: "Congratulations on your first acting job Sarah and welcome to the neighbourhood!"
She added: "A lot has changed since I was in Neighbours, but I have no doubt the family spirit of the cast and crew remains the same.
"Have a great time. Oh, and Charlene says, 'Don't forget to let me know you arrived safely'."
It also looks as though Kylie got to congratulate Charlene in person too, as Sarah shared a selfie of the pair together.
She wrote: "Touched down in London with some big news! "Thanks for welcoming me to the neighbourhood a.k.a Ramsay Street, Kylie Minogue. Feeling lucky to be playing your on screen daughter on Neighbours."
Madison's casting will be the first time that viewers get a glimpse of Jason and Charlene's daughter. She's set to join her on-screen brother Daniel played by Tim Phillipps, and Uncle Paul embodied by 'Neighbours' legend Stefan Dennis.
Watch this space! We're sure that Madison is set to cause some explosive storylines!