WATCH! Honey G's Music Video Has Arrived And We Don't Know Whether To Laugh Or Cry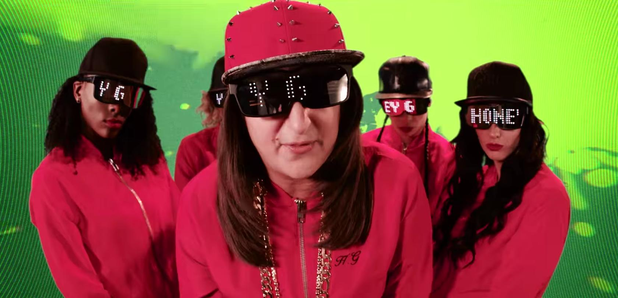 The controversial X Factor reject has dropped the video for her FIRST music video.
Honey G shocked the nation when Sharon Osbourne put her through to the live finals on the X Factor, then she shocked again when she made it through to the quarter-finals.
Now, it looks as though we haven't seen the last of her yet, as she has just dropped the visuals for her brand new single released today.
The controversial rapper – real name Anna Gilford – has pulled out all the stops in her latest assault on the charts, which she claims was inspired by Eminem.
The song, appropriately titled 'The Honey G Show', sees the star put on her best Missy Elliot impression as she raps into the camera wearing a number of blinging outfits and her signature shades.
The video starts with a bang – showing just the X Factor star's silhouette as her light up glasses read Honey G.
She then steps forward into the light and starts rapping, dressed in a red tracksuit and matching cap.
Following in the footsteps of Jay Z and Nicki Minaj, Honey lays down her best (albeit questionable) rhymes as she's flanked by a gaggle of hip hop dancers.
The video comes after Simon Cowell's offered her a record deal under SyCo and launched her very own range of merchandise.
She's obviously been taking notes from hip hop artists such as Nicki Minaj, 50 Cent and Jay Z who have all cashed in with their own clothing lines over the years.
Mugs, toys, caps and hoodies have all been unveiled as part of the range, which has been released just three days before Christmas in a bid to profit off those last minute shoppers.
If you want to get your mitts on her merch' then you will have to be willing to cough up £20 for a t-shirt!