Stephen Mulhern Is Made A LORD And Ant And Dec's Reaction Is Priceless!
Ant and Dec may have an OBE but Stephen's gone one better and the chaps aren't impressed.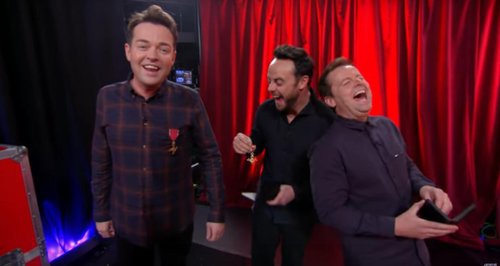 Ant and Dec have come a long way from the cheeky chaps in Byker Grove, especially since they received their OBEs from Prince Charles back in January.
Keen to show off their new jewellery behind-the-scenes on Britain's Got Talent, in walks Stephen Mulhern to rain on their parade by revealing that he has in fact been made a Lord - one up from an OBE.
Play
Meet Lord Stephen Mulhern on Britain's Got Talent
Stephen Mulhern goes one better than Ant and Dec's OBEs.
00:48
To start with, a gloating Anthony McPartlin teases Stephen by holding medal to Stephen's chest and saying: "This is a sight that isn't ever going to happen," and Declan Donnelly can't resist a cackle.
However, to the boys surprise, Stephen pulls out his own medal from his breast pocket and brandishing the paperwork that makes his title, Lord, official.
Ant and Dec's reaction is priceless as they don't know what to make of it!
Make sure you catch Ant and Dec and Stephen on Britain's Got More Talent on Saturday 22nd April at 9:20pm on ITV.
She took the mirror selfie before the reverse camera was even a thing! Say what?!
You know nothing, Jon Snow.