Mariah Carey's New Reality Show Reveals The BONKERS Rules The Superstar Lives By!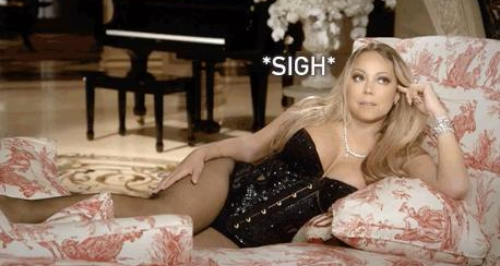 E!'s latest reality show, Mariah's World, shows what its really like to be 24/7 diva and superstar Mariah Carey.
They are the folks that brought us wonders such as Keeping Up With The Kardashians and Fashion Police, so we had no doubts in our mind that E!'s latest reality show Mariah's World - an '8 part event' offering an access all areas look into the life of Mariah Carey - would if anything, be a spectacle.
But we didn't anticipate it being this GOOD.
The show had its UK Premiere last night on E! at 9pm and if you feel like you missed out don't worry, we've got your back.
Here's all the crazy that you missed from last night's season premiere of Mariah's World...
No crying allowed if you're in Mariah's World.
In this episode we see Mariah's manager, the formidable Stella Bulochnikov hiring a new assistant and she lays out the ground rules to the innocent looking new recruit Molly.
First up is no crying, and second is no dating for the first year of the job.
The look on the her boyfriends face when she breaks the news to him that he 'can't exist' in her life in Mariah's world is quite the site to behold.
This might be a problem for Mariah Carey's new assistant. #MariahsWorld pic.twitter.com/KWOX6WuMoc

— E! Online UK (@EOnlineUK) December 11, 2016
SPOILER ALERT: We see the new assistant cry within the first episode, poor thing.
Mariah CANNOT be seen under fluorescent lighting without her sunglasses on.
This is a strict rule that the diva abides by. She has strictly no florescent lighting in her house but when she can't avoid it, such as at dance rehearsals, she has a sunglasses only policy.
This is definitely a rule we should all adopt in our lives. #Saynotofluorescentlighting
Mariah Carey has a VERY big rock on her finger.
The show should be renamed 'Mariah and Her Rock's World' because of the amount of times that thing got a close up!
The show's storyline is based around the fact that Mariah is juggling an impending European tour as well as a wedding to then fiancé James Packer - the pair have since split.
But in case we forgot about the engagement throughout the show, the camera kept zooming in on a ring the size of Jupiter...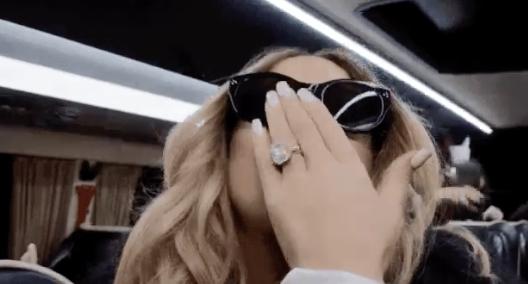 Picture: E!
Jewellery goals!
Mariah can only sleep with Apple TV on in her room.
Wherever Mariah is in the world, she must have Apple TV playing in her bedroom in order to sleep.
Her panicked assistant Molly, who is responsible for setting it up, told us the importance of this for Mariah...
"If she can't have the Apple TV playing while she's sleeping then she can't sleep. If she can't sleep, she can't perform. If she can't perform, there's no show. If it's not there everything else falls apart."
No pressure Molly! You're only responsible for the entertainment of thousands right there...
Hire me I know how to hook up Apple TV #MariahsWorld @MariahsWorld @MariahCarey

— (@WhoIsChango) December 5, 2016
And that was all in only one hour of pure Mariah Carey magic!
Move out of the way Kardashians, it's Mariah's World now...