Have I'm A Celeb's Martin Roberts And Larry Lamb Ended Their Bitter Feud?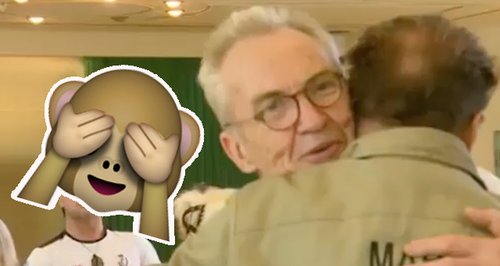 Martin proved to be a bit of a controversial character in the camp - but we didn't expect this!
For those who watched I'm A Celebrity...Get Me Out Of Here this year you'll be very aware of how Martin stirred up the camp.
He had arguments with Danny Baker, tiffs with Scarlett Moffatt and bickered with Adam Thomas during his first week in the jungle.
However, as time went on, he seemed to relax into jungle life, becoming besties with Adam and even seeing eye to eye with Danny eventually. But his feud with ex-Eastenders actor Larry Lamb just didn't seem to go away.
During ITV's I'm A Celebrity coming out show last night a clip was show of Martins arrival at the Palazzo Versace hotel after being booted out of the jungle, and Larry looked less than pleased to see him!
And the award for most awkward hug ever goes to...!
However, since the show was aired, the Homes Under The Hammer star appeared on the sofa on This Morning to straighten a few things out.
Martin said: "After we finished filming, I saw Larry with his new lady and I thought, I need to do something because I knew it was probably the last time I'd ever see him.
"So I grabbed him and I just hugged him and said 'This is a real hug'. And do you know what he did? He broke down and started crying.
"He kept telling me he was so sorry for the way he acted in the jungle and all the things he said. And I accepted his apology."
Oh thank goodness for that!
Although perhaps we won't be seeing Larry appearing on Homes Under The Hammer any time soon...