Fans Freak Out As Ant And Dec Go Their SEPARATE Ways On I'm A Celeb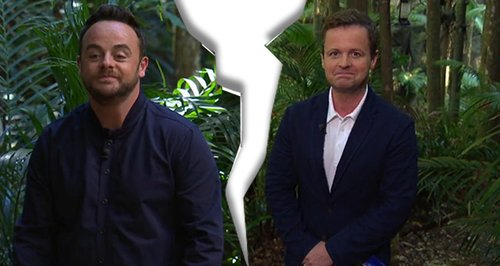 Just when we thought we'd seen the worst of 2016, ITV go and do THIS! Ant and Dec were separated on I'm A Celeb and viewers weren't happy.
It's Ant and Dec. It's always been Ant and Dec. Ant AND Dec. Not just Ant. Not just Dec. It's Ant and Dec. They even share a Twitter account because even they know the status quo.
Which is why it is understandable that viewers were sent into a spiral of confusion and unease when Ant and Dec were separated to present two different segments on I'm A Celebrity... Get Me Out Of Here!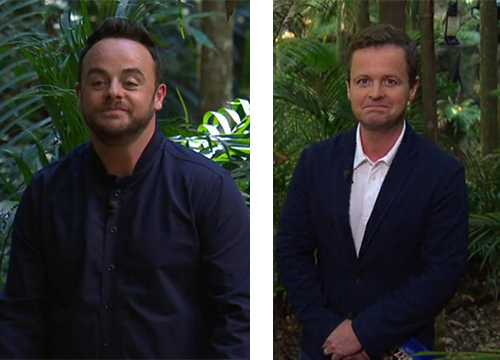 Ant and Dec were separated and viewers weren't happy. Picture | ITV
The Byker Grove lads individually went to speak to the divided camps and Twitter went into meltdown.
Whilst Ant went off to one camp to tell two of the royals, Adam Thomas and Martin Roberts, that they would be battling it out for their crowns in the next Bushtucker trial, Dec headed into the other camp to tell the royal subjects what was going on in the other camp.
Despite reassuring viewers that they would shortly be reunited on ITV 2's Extra Camp, fans were nevertheless freaked out.
It was weird seeing Ant & Dec without each other! Its like Tom with no Jerry! @antanddec @imacelebrity #ImACeleb

— Ashley (@Ashley_T125) November 23, 2016
Seeeing Ant without Dec is like Christmas without a tree #ImACeleb @antanddec pic.twitter.com/etiKDkFEyC

— grace philbin (@GracePhilbin) November 23, 2016
@antanddec @itv please say it won't happen again, I have a feeling it my stomach over it that must resemble eating an elephant testicle

— Billy Casper (@BillyCasper5) November 24, 2016
@ITV @antanddec it was MORTIFYING. I felt like I was in a real life nightmare!

— ✗ NIEEYORE ✗ (@coldpillows) November 24, 2016
In fact, so many people complained that ITV issued an official statement to apologise to the distraught fans.
OFFICIAL STATEMENT:
Last night we made a mistake. We apologise to the nation. We promise we will NEVER split @antanddec again.#ImACeleb pic.twitter.com/S5V50asXnE

— ITV (@ITV) November 24, 2016
We should hope not ITV. We thought we'd already seen the worst of 2016...