WATCH: Bryce Dallas Howard Talks Running In Heels In 'Jurassic World' Interview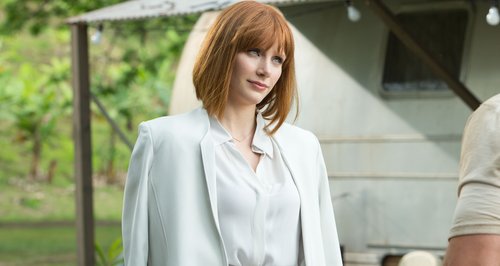 The Hollywood starlet opens up about her character's "feminine badassery" and why making this movie meant so much to her and more in our exclusive interview...
Bryce Dallas Howard chatted to Heart Showbiz Reporter, Kevin Hughes about what makes her character so powerful and why she loved working with co-star Chris Pratt.
Watch the interview below...
Bryce Dallas Howard stars opposite Chris Pratt as Claire, the manager of 'Jurassic World', who is getting ready to unveil a new genetically engineered dinosaur, the Indominus Rex.
Unsurprising, the dinosaur escapes before its big début and starts causing havoc in the tourist-filled park, which includes Claire's nephews!
The 34-year-old actress admitted she thought dinosaurs must be real the first time she saw the 1993 film: "This movie was so important to me as a fan because when I saw 'Jurassic Park' when I was 12-years-old I was absolutely shell shocked".
She added of her co-star: "Chris is awesome, he's pretty much the greatest human being on planet Earth."
'Jurassic World' is open in UK cinemas now and is already enjoying the biggest opening of 2015 at the UK box office.