Most Hilarious Onscreen Rock Stars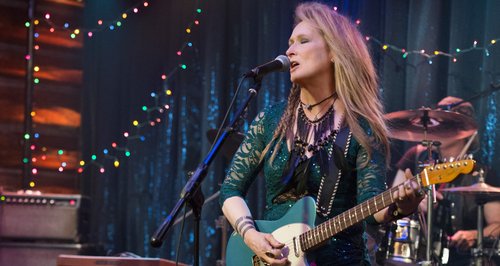 From Bill Nighy's ageing rockstar in 'Still Crazy', Meryl Streep's front woman in the upcoming 'Ricki And The Flash' to Tom Cruise's cringeworthy 80s rocker Stacee Jaxx in 'Rock Of Ages' actors have put themselves to an image overhaul to play musicians.
Mel Streep as Ricki in 'Ricki And The Flash'
Anyone who's ever been a bit of a rebel at heart will sympathise with Streep's character in her new movie.
Streep plays musician Ricki who goes home to reconnect with her family when her daughter Julie (played by her real life offspring Mamie Gummer) is ditched before her wedding.
The 66-year-old actress brilliantly captures the heart and soul of a musician who ever grew up. The film about family and loyalty will be sure to pull at the heartstrings when it comes out on 18 September. It may not be easy to imaging the Oscar winner as a rocker, but as always Streep does a stellar job.
Tom Cruise as Stacee Jaxx in 'Rock Of Ages'
Tom Cruise played the frontman of fictional band Arsenal in 2013 film 'Rock Of Ages'. Whilst we give it to him that the film was set in the 80s and he played an MOR rock singer, we can't help it but cringe a little when we watch him onscreen. Alas we don't think Cruise has a rock&roll bone in his body in real life. A little bit too much 'dad wants to play at being a rockstar'.
Christopher Guest as Nigel Tufnel in 'This Is Spinal Tap'
The original - and still the best - spoof about rock bands. The famous Nigel's Guitar Room scene below is what became synonymous with this laugh-out-loud film - 'These amps go up to 11!'. Guest was simply perfect as the band's guitarist Tufnel.
Bill Nighy as Ray Simms in 'Still Crazy'
Nighy plays the ageing rocker Ray Simms in the 1998's film 'Still Crazy', which sees the comeback to the stage of 70s band Strange Fruit.
Jack Black as Dewey Finn in 'School Of Rock'
Down on his luck musician Dewey Finn takes a job as a maths substitute teacher, only to turn his class into a rock band. Who wouldn't love a music teacher like Jack Black?
Mike Myers as Wayne Campbell in 'Wayne's World'
Myers wasn't quite a rockstar in 'Wayne's World' but he was a music loving slacker trying to get his own cable TV show off the ground. With predictable results...
Hugh Grant as Will Freeman in 'About A Boy'
Irresponsible Will Freeman is taught a lesson or two by a young boy, Marcus (played by an ickle Nicholas Hoult). But it's Will who shows his caring (and embarrassing) colours when Marcus is ridiculed during a school performance of 'Killing Me Softly'. Grant at his best, bumbling self. Maybe put that that guitar though Hugh...
Britney Spears as Lucy Wagner in 'Crossroads'
Don't get us wrong, we love Britney, but her role of Lucy Wagner performing 'I Love Rock&Roll' complete with crimped hair is probably the least rock&roll thing we've ever seen.
Beyoncé as Foxxy Cleopatra in 'Austin Powers In Goldmember'
Just as her namesake, Beyoncé was nothing short of foxy in this funny film.
Rachael Lee Cooke, Rosario Dawson and Tara Reid in 'Josie And The Pussycats'
Rachael Lee Cooke leads her Pussycats to stardom...or at least she tries to. A sweet and funny film about the mishaps of being in a rock band.
John C. Reilly as Dewey Cox in 'Walk Hard: The Dewey Cox Story'
John C. Reilly is brilliant in this movie, in which he spoofs every music great of all times, from Johnny Cash to Jim Morrison. Jack Black, Paul Rudd, Justin Long and Jason Schwartzman play The Beatles.