"My Boobs Had To Be Digitally Reduced!" Kate Winslet Spills On THAT Corset In 'A Little Chaos'.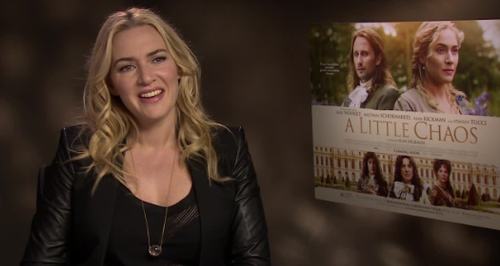 The 39-year-old actress reveals exclusively to Heart the difficulties of wearing a corset in the period drama and doesn't fail to see the funny side!
Kate Winslet may have been looking forward to returning to a British film production, but it came with a price.
The actress, who plays Sabine De Barra in the Alan Rickman directed film, reveals her bosom became so large during her pregnancy with 16-month-old son Bear that she couldn't fit them into her corset.
"Corsets are really uncomfortable but they make your boobs look great, what can I say!" She joked to Heart reporter Kevin Hughes before adding: "It sort of got tricky because it got to the point in the pregnancy where I didn't have anywhere else to put the boobs!"
It doesn't stop there, the mother of three even thinks the crafty editors may have had to give her a virtual breast reduction.
Kate laughed:"I do even think they had to go back and digitally reduce them at some points because it was getting a little bit silly."
The film, which also stars actor-director Rickman, Stanley Tucci and Helen McCrory, tells the story of a female landscape-gardener who is awarded the esteemed assignment to construct the grand gardens at Versailles.
Meanwhile, Kate told Heart about her hopes for the future and says she would love to play a different gender.
"I would quite like to play a man," she pondered. "I don't quite know how that's going to happen, but that's just kind of an idea I have. I might just be better off playing dress up at home instead."