The Best Movie Makeovers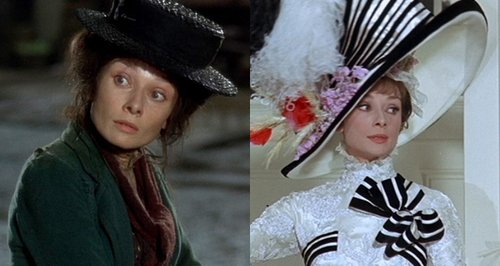 Admit it, the transformations were basically the reason you loved these films so much. So from 'My Fair Lady' to 'Miss Congeniality', we've rundown the best ever movie makeovers...
Any teen movie worth its salt has some sort of makeover - the heroine descends a staircase in slow-motion and we cut to the montage of her metamorphosis from geeky girl to culturally-sanctioned hottie...

Yep, no film is truly complete without one of its characters undergoing an amazing transformation. We may have seen it a thousand times (dating back as far as Cinderella) but makeover movies are always fun even if they are predictable.

We've rounded up the cinema's best ugly ducklings-to-beautiful swan moments...
The Princess Diaries
Mia (Anne Hathaway) is just an awkward teen but her transformation comes after she discovers that she's the heir to the throne of Genovia. In short, this film's makeover basically champions the power of a good blowdry and eyebrow threading.

Miss Congeniality
Before...
Sandra Bullock's transition from federal agent Gracie Hart to pageant queen Gracie-Lou Freebush is a no-holds-barred approach to makeovers, involving a whole team of beauty therapists and of course, the incredible Victor Melling, played by Michael Caine.
After...
While she may have become feminine and learned to chew with her mouth closed, you still shouldn't mess with her!
My Fair Lady
The preternaturally graceful Audrey Hepburn plays cockney waif Eliza Doolittle, who becomes a proper English gentlewoman thanks to elocution lessons from Professor Henry Higgins.
Grease
Before...
One of the greatest movie makeovers ever has to go to Sandy from Grease. Good girl Sandy (Olivia Newton-John) finds that in order to win the heart of Danny Zuko (John Travolta), she has got to ditch the good girl image and become a Pink Lady...
After...
"Tell me about it, stud."
Cinderella
Cinderella's fairy tale transformation is the stuff that many a little girl's real-life makeover dreams are made of.
Pretty Woman
Before...
Hollywood hooker Vivian Ward (Julia Roberts) goes from the Sunset Strip to Beverly Hills.
After...
Richard Gere's credit card + Rodeo Drive + the dulcet croons of Roy Orbison, doth make one of cinema's greatest movie makeover.
St. Trinian's
To find her clique, new girl Annabelle (Talulah Riley) tries each one on for size. The scene is pretty much what makeover montages were made for: so many looks, so many poses! But in the end, she sticks with the lame uniform and adds crimped hair. Exciting stuff!