Incredible Facts About 'My Big Fat Greek Wedding' To Get You Excited For The Sequel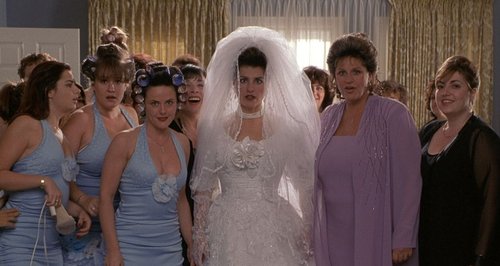 Hold onto your Windex because Toula and the Portokalos family are back for another rip-roaring comedy drama...
One of the most successful romantic comedies of all time 'My Big Fat Greek Wedding' is BACK for a second instalment on March 25th and it's safe to say we're excited.
Yes, that's right, Toula and the rest of the Portokalos clan are back in action!
Here are some incredible facts about the first record-breaking movie which defied everyones' expectations. We love a good underdog story...
It's the second most profitable film of all time
We know, it's unbelievable, but 'My Big Fat Gypsy Wedding' only cost $6 million to make but it pulled in a staggering $369 million worldwide. The only film to beat it is 'Paranormal Activity' which beat its budget by 12,890%.
It is the highest-grossing romantic comedy EVER
The film made $241 million in the United States alone, putting it ahead of 'There's Something About Mary' and Mel Gibson's 'What Women Want'.
Tom Hanks and Rita Wilson produced the film
Hollywood actor Tom Hanks and his actor/producer wife Rita Wilson produced the movie under their production company, Playtone Pictures. It turns out that Rita saw the play on which the movie was based and decided it would make a great little film...and then it became a smash hit!!
Nia Vardalos (who plays Toula) wrote the movie because she couldn't get other roles
As a struggling actor in LA, Nia didn't seem to fit the typical movie mould, so she decided to write her own part, and her own film, based on her own experiences. How incredible is that!
This is how the cast and crew saved money...
Greek caterers and local restaurants sent over food to support the movie, which saved the whole production an absolute fortune in catering costs and helped them achieve such record-breaking profits. Nice work!
Nia Vardalos' actual family were seated on the bride's side in the wedding scene
Instead of paying for extras, Nia roped in her family members to fill the pews in the big wedding scene. Talk about art imitating life!
The film is set in Chicago, but it wasn't filmed there...
Rumour has it that the film is based on life for Greek communities in Canada, so it's no surprise that the film was made in the country. The director called action on sets in Toronto and scenes were even filmed in Ryerson University, where Nia Vardalos' went to school.
Nia Vardalos's real-life husband, Ian Gomez, was in the movie
He played Ian's best friend, Mike, so watch out for him next time you press play!
The film was even nominated for an Oscar
At the 75th Academy Awards in 2003 the film was nominated for Best Original Screenplay, but sadly it lost out to Spanish drama 'Talk to Her'. We'd have given it the golden statue!
Will you be going to see 'My Big Fat Greek Wedding 2' at the cinema? Check out our round-up of the best movies to see this weekend below...