Internet Freaks Out Over Nicole Kidman's Weird Clapping At The Oscars
27 February 2017, 10:18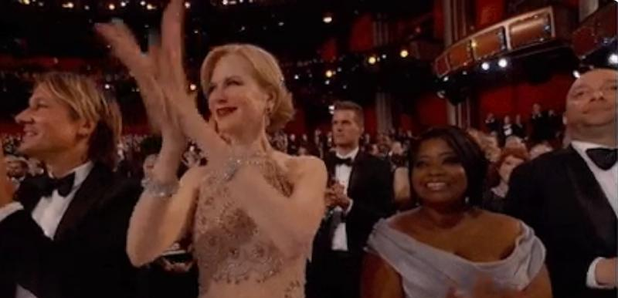 One twitter user asked: 'Does Nicole Kidman even know how to clap?'
The Oscars 2017 may have been packed full with all of the drama it promised, including THAT awkward moment when La La Land accidentally picked up Moonlight's award for Best Picture.
But it's Nicole Kidman's bizarre way of clapping that appears to have stolen the show.
And the award for weirdest clapping goes to... #NicoleKidman! @JenniFalconer #Oscars x pic.twitter.com/bAuBYNfMuN

— Heart (@thisisheart) 27 February 2017
As the camera zoomed in for a close up of the 49-year-old actress giving a standing ovation for one of her winners, she showcased a bonkers style of clapping.
Rather than putting both of her hands together to clap, she appeared to only make the sound by meeting her the palms of her hands.
Oscars viewers took to twitter to see if anyone else had spotted it, with one saying "why can't Nicole Kidman clap?' and another dressing up as the actress to recreate the clap.
Why can't Nicole Kidman clap

— Adam Ellis (@moby_dickhead) February 27, 2017
RT to give a cyber applause #NicoleKidman #Oscars @iloveshowpo pic.twitter.com/ecNxPDlDBm

— Alan Tsibulya (@AlanTsibulya) 27 February 2017
Why does Nicole Kidman clap like The Grinch?! pic.twitter.com/dhzN7Og8xC

— Michael Lopriore (@MichaelLopriore) 27 February 2017
But a Nicole Kidman fan group has hit back with the sassiest response:
You try to clap when you're wearing half a million dollars worth of jewels.

— Nicole Kidman (@NicoleKidman) 27 February 2017
Touché Nicole Kidman, touché.