Keira Knightly Is BACK As Elizabeth Swan In Pirates Of The Caribbean 5!
19 April 2017, 10:14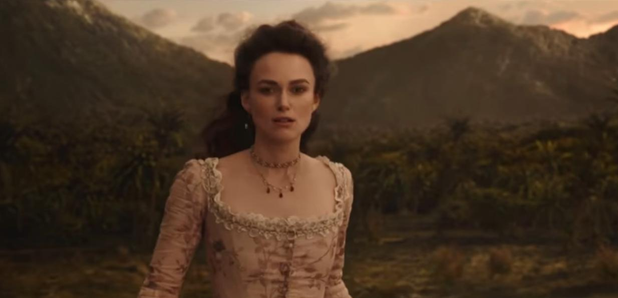 Keira Knightly is reprising her role as the Governor's daughter in Pirates Of The Caribbean: Dead Men Tell No Tales.
The 32-year-old actress hasn't appeared in the Pirates of the Caribbean franchise since it's third film back in 2007, but now the secret is out. We can confirm that Keira Knightly is back for the fifth film and we can't wait!
On Tuesday night, Disney dropped an international trailer, which gives us Brits some unseen footage of the upcoming film - including Keira's appearance.
The actress is spotted wearing her hair in Elizabeth Swan's trademark curls and corseted dress, and as ever, a determined look on her face.
And it's not only Keira who is making a comeback to the franchise: Orlando Bloom is back as William Turner, Johnny Depp as Captain Jack Sparrow and Geoffrey Rush as Captain Barbossa.
But there's a new bad guy haunting the seven seas: Captain Salazar, played by Skyfall's Javier Bardem.
Salazar has escaped from the clutches of the Devil's Triangle with a mission to kill all living pirates, and in particular, Johnny Depp's rogue Sparrow.
The film looks like it will be following in the footsteps of previous instalments with a band of supernatural, dead and cursed pirates and a price on Sparrow's head.
Kaya Scodelario plays the young love interest, astronomer Carina Smyth, while Brenton Thwaites' Royal Navy sailor Henry will inevitably end up at Sparrow's side. Oh and did we mention that he's the son of Will Turner?
We've already seen the Rolling Stones legends make an appearance in the film franchise, but this latest number features actual Beatle, Paul McCartney.
After Keira skipped the fourth installment - On Stranger Tides - we can't wait to see her back in the Caribbean!
Pirates of the Caribbean: Dead Men Tell No Tales will be in theatres in May 2017.