You Won't Believe These Films Are 20 Years Old This Year!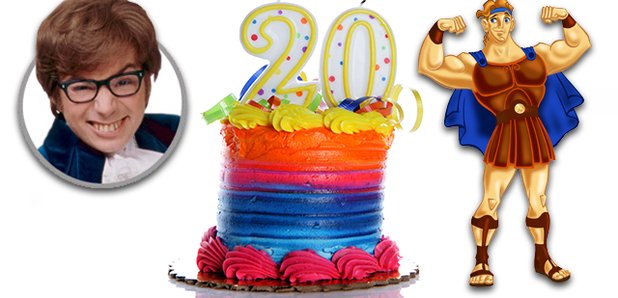 This will definitely make you feel like you're getting on a bit...
This article can go one of two ways...
Either make you feel incredibly nostalgic and go and watch each of these films immediately...or make you feel old!
It's like we blinked and these films turned 20 years old - where did the time go?!
But one thing we have learnt is that 1997 produced some flippin' good films...
Flubber
Yep that loveable ball of green goo is now two decades old. An absolute classic, mostly because Robin Williams is in it and lets face it, did he ever make a bad film?
Austin Powers: International Man Of Mystery
This is the film that started it all and introduced us to Mike Myer's hilarious Austin Powers and Dr Evil - grooooooovy baby yeah!
Titanic
A film our tear ducts can barely handle but one of the greatest of all time! It's been 20 years since we wept for the first time as Jack let go of Rose on the door and may we continue to well up for the next two decades.
The Full Monty
You can leave your hat on! The saucy 90's cult film was released in 1997 and was the highest grossing film at the UK box office that year right up until Titanic was released in the December.
Liar Liar
In the 1990's the undisputed king of comedy other than Robin Williams was definitely Jim Carey and Liar Liar is definitely one of his most hilarious flicks. When his character's son wishes his lawyer dad would stop lying he faces a hideous and hilarious (for us) 24 hours in court...
Men In Black
The action packed alien epic stars Will Smith and Tommy Lee Jones as special agents who keep unwelcome aliens in check. And it provided one of the best movie themes of the 90's...we bet it's stuck in your head right now!
Hercules
Arguably one of the most underrated Disney films EVER! Can you believe Hercules is a whopping 20 years old? Starring Danny De Vito as Herc's trainer Phil the film follows the hunky cartoon demigod as he tries to get back to Mt Olympus to be with his father Zeus. And lets not forget how AMAZING the soundtrack is!
George Of The Jungle
A kids movie classic that is a guilty pleasure for us adults too....George of the Jungle! George raised himself in the jungle and the film follows his hapless adventures as he has his first human contact in a looooong time. Watch out for that tree!