WATCH: The Trailer For Olaf's Adventure Leaves Us Wanting MORE Of Frozen 2
14 June 2017, 09:02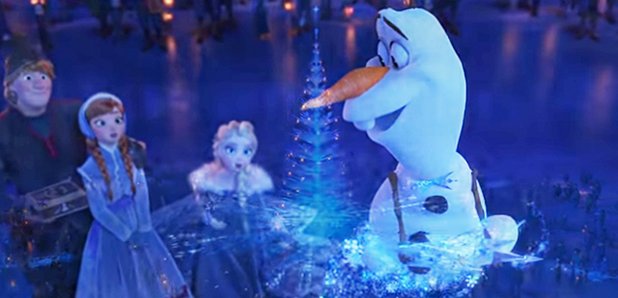 Just when you thought you'd finally got 'Let It Go' out of your head, this happens: the trailer for an unexpected EXTRA Frozen featurette has dropped and we're secretly really excited.
Despite our irritation every time our kids blasted the musical number from the living room (and our horror when we found ourselves humming the tune under our breath), we're looking forward to seeing Olaf the snowman reunite with princesses Anna and Elsa for the second instalments titled Olaf's Frozen Adventure.
This time, the short 21-minute featurette focuses on Olaf the snowman, voiced by Josh Gad, who is on a quest to find the perfect holiday tradition for the sisters as he learns about Christmas trees, candy canes and dreidels.
Although the new animated film will see Olaf taking the front seat, Kristen Bell returns to voice Anna, Idina Menzel reprises her role of Elsa and Jonathan Groff returns as love interest, Kristoff.
If you're looking forward to seeing it, it's going to be screened ahead of new Pixar film Coco, and will also feature four new songs, composed by Kate Anderson and Elyssa Samsel.
Let us not forget the success of the first film, which saw 'Let It Go' win a best original song Oscar for Kristen Anderson-Lopez and Robert Lopez, and also the best animated film prize.
Even though this is not the trailer for Frozen 2, according to Disney Pixar, the new short will serve as a foundation for Frozen 2, which is believed to be looking at a release date in 2019.
John Lasseter, chief creative officer for Disney and Pixar animation, told Entertainment Weekly: "In Frozen, they dearly loved each other but were separated, and now they're back together and never going to close the doors again.
"But now what? What are they going to do with their first birthday? That's Frozen Fever. Now, they have their first holiday season together. (That's Olaf's Frozen Adventure.) And then what? We go from there, and it fits in perfectly with Frozen 2.
"It's interesting to have this continuity between Frozen, Frozen Fever, Olaf's Frozen Adventure, Frozen on Broadway... all of these projects really lead to Frozen 2 and this new story we're creating that's all, in a weird way, connected in the life of Anna and Elsa.
"You could sit and watch Olaf's Frozen Adventure and Frozen 2 as one big marathon. And it's all in (Anna and Elsa's) learnings. As we learn, they learn."
Even though this is not the trailer for Frozen 2, it has left us wanting more.